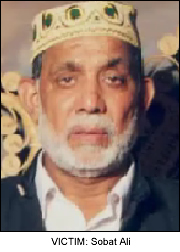 A PENSIONER who died after chasing three men moments after he was mugged of £2,500 worth of jewellery has been described by his family as a "hard working man".
64-year-old Sobat Ali suffered a heart attack and collapsed just yards from his house on Hart Street, Caldmore, Walsall after he was mugged by three men.
Mr Ali, a father-of-seven with 14 grandchildren, has returned home with his daughter after buying jewellery for a family wedding when he robbed in his doorway.
His daughter-in-law was also slashed across the arm with a knife as the robbers snatched jewellery from the pair.
Detectives have now begun a murder inquiry and have appealed for any witnesses to contact them.
Mr Ali's son, Bashid Khan, paid tribute to his father adding the family were in "utter shock" at his father's death.
"I can't believe what has happened to him", he said.
"The whole family is in utter shock over his death and the way it has happened."
He said his father was also known by the nickname Sultan and was a very popular member of the community.
"He was a kind man. He was decent and well respected in the community. He used to go to the mosque and was well known by everyone."
He said he was convinced his father and sister had been followed by the robbers as they left the jewellery store.
"There are lots of CCTV cameras in the area and we hope that some of them would have captured what happened."
Chief Superintendent Bruce Gilbert who is heading the hunt for the robbers described the attack as "premeditated and vicious".
He appealed for witnesses to the mugging to come forward.
"Sobat Ali chased the men and caught up with the robber holding the jewellery," he said.
"During the course of that struggle Mr Ali suffered a fatal heart attack and he also suffered bruising.
"This was a premeditated and vicious attack which has turned into murder."
He added he was keen to speak to anyone with information about the robbers, who are thought to have used a dark Vauxhall Vectra as they escaped.
All three robbers have been described as black males. Anyone with information should call Walsall CID on 0845 1135000.