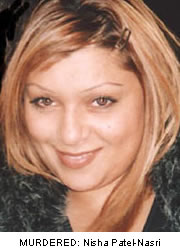 DETECTIVES investigating the murder of special constable Nisha Patel-Nasri have arrested two men in connection with her murder.
The men, one a 37-year-old from north London, and the other, a 41-year-old from east London, were arrested by detectives in the early hours of this morning.
They are being questioned by detectives in separate police stations in London.
Detectives also revealed they had also recovered a light coloured Audi A4 in southwest London.
It is believed to be the car detectives had previously appealed for information on after it was captured on CCTV acting suspiciously a street away from where Nisha was knifed.
Despite the arrests detectives are still appealing for witnesses to the murder and a reward of £30,000 is still being offered by Crimestoppers.
29-year-old Nisha, a hairdresser and special constable, was stabbed outside her home earlier this year.
Neighbours reported hearing a disturbance before hearing Nisha scream out. Despite efforts by neighbours and paramedics, she was pronounced dead on arrival at Northwick Park Hospital.