 DVD Review: Koffee with Karan
When Bollywood hotshot Karan Johar revealed he was to front his own star-studded chat show, there was that much excitement it was as if he'd announced he was making Kuch Kuch Hota Hai…the sequel!
For knowledgeable Bollywood fans, Karan Johar, was at the time (and probably still is) the man with the golden touch. Not only was he a good (and very close) friend to Shah Rukh Khan but he was the man who managed to assemble one of the biggest and most influential casts for his smash hit film K3G (Amitabh Bachchan, Jaya Bachchan, Shah Rukh Khan, Kajol, Hritikh Roshan and Kareena Kapoor!)
So who better than Karan Johar to take advantage of his star connections for a no-holds-barred chat show. 
In this 3-set DVD release ('Best of Shah Rukh Khan', 'Classic Koffee' and Bollywood Diva's – all sold separately), Bollywood fans are treated to over 9 quality hours of Karan grilling some of Bollywood's biggest stars.
For those of you, like myself, who didn't catch the series on Star TV, you'll be pleasantly surprised to find out Karan's just as good in front of the camera as he is behind. The reason for this may lie down to the fact that Karan has at some point or another worked with a majority of those who are brave enough to take the hot seat, but you cant help but feel there's a mutual respect between Karan and his guests – something that is patently obvious during his interview with on-screen golden couple Shah Rukh Khan and Kajol.
After a thoroughly exhausting evening watching all 3 DVD's I found myself wanting to watch Karan's interview with Shah Rukh Khan and Kajol another time. Whilst the trio at the beginning talked openly about the success of their number one hit Kuch Kuch Hota Hai and on Shah Rukh and Kajol's great chemistry, the conversation soon turned into one big laugh. Both Shah Rukh and Karan joked openly about one incident when Kajol fell off a bike whist filming Kuch Kuch Hota Hai and became so disorientated she didn't know where she was or who those around her (including Shah Rukh and Karan) were.
It's moments during the interview like this which make you feel you're intruding in a private conversation. All three are remarkably at ease with each other and it's obvious they are close friends – creating the type of interview I have never seen elsewhere. At ease in Karan's company both Shah Rukh and Kajol offer the type of interview you would most likely never see them conduct elsewhere and for the first time reveal an insight into their private lives (Kajol talks about husband Ajay Devgan, while Shah Rukh reveals intimate feelings about his young son).
Putting Kajol to one side, we get another two helpings of Shah Rukh on the 'Best of Shah Rukh' DVD. He joins wife Gauri and fellow Bollywood husband and wife duo Hritikh and Suzanne Roshan (no one since has managed to get both couples on the same show), in one episode, while he takes Karan's hot seat for a while as Amitabh Bachchan takes to Karan's infamous couch. This DVD alone is a must for Shah Rukh fans everywhere!
In Bollywood Diva's Karan reveals how a host of actresses, including Aishwariya Rai, Raveena Tandon and Tabu all turned down the role of 'Tina' in Kuch Kuch Hota Hai, before Rani Mukherjee agreed to do the role. For Rani, the rest is history and as one of the biggest Bollywood stars today, she has Karan to thank for that.
Alongside Rani we have Kareena Kapoor, who denies a host of media reports saying she has 'issues' with Rani Mukherjee. Judging by the obvious distance of the two on Karan's couch we're inclined not to believe her! (Check it out for yourself!) Other stars opening up on the DVD are Bipasha Basu, Lara Dutta and Arjun Rampal.
In the final of the 3-DVD set, Classic Koffee, there's something for our mums and dad's who find skimpy dressed Kareena Kapoor a tad too hot to handle.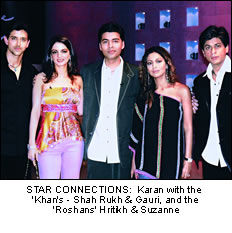 Hema Malini, and Zeenat Aman take to one couch, husband and wife duo Rishi Kapoor and Nettu Singh to another, while former Miss Universe Sushmita Sen and Sanjay Dutt reveal all in the third part of the DVD.
So if you're Bollywood mad Koffee with Karan is a must for you. Fry the samosa's and pour the lassi for nine hours of some great Bollywood entertainment!
Koffee with Karan 'Best of Shah Rukh Khan', 'Bollywood Diva's' and 'Classic Koffee'  (Showbox Home Entertainment) are all out to buy on DVD on 15th January priced £12.99 each.
Review by Zakia Yousaf

Watch Koffee With Karan – Talking about Ajay Devgan

Watch Koffee With Karan – Shahrukh Khan quick fire round

Watch Koffee With Karan – Rani and Kareena
WIN A SET OF 'KOFFEE WITH KARAN' DVD'S!
We've teamed up with Showbox Entertainment to offer three lucky readers the chance to get their Bollywood mitts on all three Koffee with Karan DVD's mentioned above.
To be in with a chance of winning, all you have to do is answer the following question:
In the Koffee with Karan – 'Best of Shah Rukh Khan' DVD, who does Shah Rukh and wife Gauri appear alongside?
Is it:
A. Hritikh and Suzanne Roshan
B. Amitabh and Jaya Bachchan
C. Rishi Kapoor and Neetu Singh
If you think you know the answer, send your name, address and contact number to:
The Koffee with Karan DVD Competition, The Asian Today Newspaper, PO Box 13544, Birmingham, B11 9BZ
Closing date for entries: 1st January 2007
Winners will be chosen at random and the Editor's decision is final.
This competition is now closed!
The winners are:  Preena Mistry, Birmingham, Inam Malik, Wolverhampton, and Faisal Ahmed, Birmingham