 Bollywood Film Review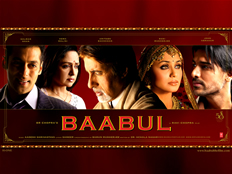 A moving story about a father who tried all he can to bring happiness into his daughter-in-law's life
Director:

Ravi Chopra
Cast: Amitabh Bachchan, Hema Malini, Salman Khan, Rani Mukherjee, John Abraham,
Om Puri
Balraj Kapoor (Amitabh Bachchan) is a rich businessman with a modern outlook on life.
For him, family, culture and traditional values are of utmost importance. He is fully supported by his loving wife, Shobhna (Hema Malini). The couple has a son called Avinash (Salman Khan).
For Balraj, Avinash is more of a friend than just his son.
After spending years abroad for further studies, Avinash returns home to his parents. This is a period in their lives which has been the happiest ever.
Soon, Avinash comes across Millie (Rani Mukherjee) who is a painter by profession. It is not long before they fall in love and get married. They are blessed with a lovely child named Ansh.
Rajat (John Abraham), a musician, has always been a close friend to Millie but has never revealed his feelings to her.
He is now happy, seeing Avinash and Millie living a blissful married life. So he decides to immigrate to Europe where he can pursue his musical career.
The twist comes when Avinash dies in a fatal accident leaving Millie totally heartbroken.
Meanwhile, Balraj and Shobhna try to find comfort due to their loss in Ansh.
Seeing Millie in this sad state, Balraj decides to find Rajat and ask him to marry Millie.
But Balwant (Om Puri), Balraj's elder brother, settled in rural Punjab and his widowed sister-in-law, objects to Balraj's plans.
He strongly believes in Indian traditions that support his family honour and reputation. He will go to any length to uphold that.
Even his wife, Shobhna does not agree with Balraj's intentions.
So, will Balraj be able to fulfill his plan? Will he prove to be a father (Baabul) rather than being a father-in-law? And what will society think about Balraj's idea?
The moving drama being released by Adlabs in the UK, has the answers.
Ravi Chopra's previous film, Bhagban was extremely popular with the UK audience due to its underlying message of looking after the elders in the family.
So judging by this, Baabul is predicted to be an instant when it releases this December.