 Bollywood Interview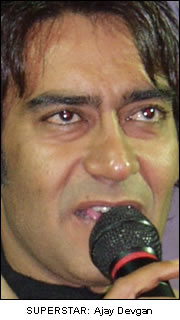 Ajay Devgan is perhaps every man's dream. He is one of Bollywood's biggest stars, he has been up close and personal with the cream of Bollywood's leading ladies, and he's married to one of the industry's biggest stars, Kajol. But behind that showbiz exterior lies a completely different man. He puts his family ahead of his career and admits he would toss aside a Bollywood film if it conflicted with family engagements – a trait that has earned him respect from fans and peers alike. Despite being a very private person the 39-year-old jetted into Birmingham alongside wife Kajol for the city's annual Mela extravaganza.
We caught up with the Bollywood star to find out just why Ajay Devgan has been billed as Bollywood's most unconventional star.
How does it feel to be in Birmingham?
Well this is my first time in Birmingham and I have hardly seen the place to be honest!
But I have interacted with the crowd here at the Mela and they have been fantastic.
How do you manage your time between your work commitments and family life?
I believe that family life is more important than your career and I spend a lot of my time with my family, I see to it that my career does not come in the way of my wife and daughter, my parents, my friends and I think that's the most important thing.
Do you have a good balance between work and life?
I think I have found a good balance.
In what way?
I do not work on Sundays I do not work for more than 7-8 hours a day, I take my holidays and once I finish work I don't attend a lot of parties or functions. Once work is over I go home and spend time with my family
If the most amazing script that you had ever seen landed on your desk but conflicted with a family engagement, how would you deal with that situation?
It has happened in the past and if I can't accommodate the film then I wouldn't and moreover I realised this after my daughter [Nysa] was born. Once the years are lost they cannot come back. I still have problems in that when I leave for work in the morning and she tells me not to go it gets very difficult
What motivates you and inspires you in doing your job?
Difficult answer. I really don't know. It so happens that sometimes you decide to do a film and in the process you realise that you're not enjoying the film and its not shaping up the way you had hoped and then when you wake up in the morning don't feel like going into work. But there are films when you wake up fresh in the morning you are eager to get onto the sets. So I think it all boils down to the particular film and the job satisfaction you get in doing that project.
How would you define job satisfaction?
When you realise at the end of the day you have done a better job than the day before.
You have a very pressurised job. How do you cope with pressure?
I am not one for pressure to be honest. In between shots and the editing process I am not in character and I think this is very important. Once my day is over I do not think about my work and this is important to me because if you didn't do this then you could become insane!
You're a very laid back person.
[Laughs] Yes I am and I've always been this way. Its very rare that you will see me majorly excited about something.
Does anything every make you angry?
Lots of things make me angry. It's an emotion that you cannot suppress but it's how people deal with that emotion which is important. Some people let it out, some people suppress it.
In terms of your peers, is there anyone you hold in high esteem?
We've all grown up watching Mr Amitabh Bachchan's films and the bottom line is that he is somewhere deep inside you every time you perform in front of the camera. He is great in every which way.
Has becoming a parent influenced the type of roles you are accepting?
Not yet but eventually I think it will. I remember one of my co-actors telling me that he wanted to play a negative role in a film but his children told him they didn't approve of it. My daughter is too young at the moment but eventually she may have an input in the type of roles I accept.
Has being a parent changed you as a person?
I think it makes you more responsible for your actions. You don't do irrational things or take chances.