 THE FATHER of a man shot dead in Birmingham has urged the community not to take matters into their own hands in retaliation for his murder.
Meshack Tesfa Bernard was celebrating his 20th birthday when he was shot in the Newtown area on Monday evening.
Detectives for West Midlands Police believe he was the innocent victim of a revenge attack and are linking his murder with two other stabbings which took place earlier the same day.
About half an hour before the fatal shooting of Mr Bernard two Asian men were attacked, one with a machete and the other was stabbed in the groin.
Appealing for information that could lead to his son's killers,
Meshack Tesfa's father Andrew Brown urged the community not to take matters into their own hands.
"My son has been murdered and this callous act of revenge and lynch mobbing has got to stop", he said.
"I want people out there to know that we do not want retribution or revenge for my son's death. All we want is the truth".
Mr Brown described his son as a "loving" man with ambitions to become a football coach.
"My son was always loving and always embraced his friends with a sincere hug of love. "Everyone loved him. He was ambitious; he wanted to be a football coach.
He said his family wanted justice for Meshack's murder.
"These people took my son away from me and his family and all for the sake of revenge. I don't want people taking things into their own hands in revenge for my son .All I want for my son is justice."
Breaking down in tears, Mr Brown added: "This has got to stop".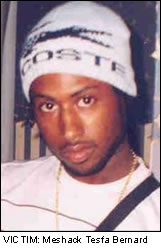 Det Supt Mike Treble, who is heading the investigation, said a group of individuals had gone to Melbourne Rd looking to seek revenge for the earlier stabbing incidents.  
"Meshack was out that evening full of joy looking to celebrate his birthday. It would appear that a group of individuals that had gone to Melbourne Road had found someone and this is possibly the case of mistaken identity", he said.
"We have no intelligence or information at this stage to link Meshack with the earlier incidents that occurred on the same evening."
Over 40 detectives are working on the case with uniformed officers conducting house to house enquiries.
A 25-yearold man is currently in police custody helping with enquiries.