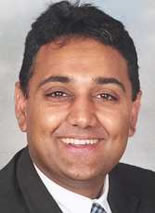 A BIRMINGHAM Councillor has accused the Labour government of targeting "all" Muslims after the Home Secretary appealed for parents to watch their children in the fight against Islamic extremism.
Tariq Khan (pictured right) , Liberal Democrat councilor for the Washwood Heath area of the Birmingham, said Home secretary John Reid's call to Muslim parents was an "absolute disgrace".
He also said the government were guilty of alienating the Muslim community, and accused them of pushing "false" community cohesion plans in order to "win back Muslim voters".
In an article for the Sun newspaper, Home Secretary John Reid appealed for Muslim parents to notice any changes in their children saying the "Muslim community must choose between accepting the propaganda of the terrorists and taking on would-be terrorists at every opportunity."
He added: "There are times when we must confront them to protect them from harm. So I appeal to you to look for changes in your teenage sons — odd hours, dropping out of school or college, strange new friends. And if you are worried, talk to them before their hatred grows."
He reiterated the calls at a meeting with London's Muslim community in Leyton, east London where he was heckled by protestors who called him an "enemy of Islam".

Mr Khan told The Asian Today Mr Reid's statement was an "absolute disgrace".
"It is an absolute disgrace that such a government minister should come out with comments or a statement such as this", he said.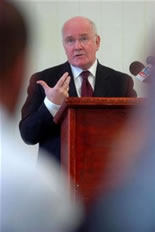 John Reid at a meeting in  Leyton, east London

"Tony Blair and the Home Secretary have upset the Muslim population once again and this is becoming more and more of a habit. The Labour government has gone off the rails and is alienating the Muslim community more and more and giving it a negative image.
"Ninety nine per cent of Muslims are law abiding and peaceful people and this statement by the Home Secretary will only increase tensions in the wider community. I am personally appalled as to the way the Labour government are handling issues with the Muslim community and treating them like 2nd class citizens.
"All their plans on community cohesion are just a false impression to win back Muslim voters but the Muslim community has woken up and has seen enough from the barrage of bombing in Lebanon, Iraq and Afghanistan to determine what this government is about. Was the home secretary trying to say that it is only Muslim children that are terrorists? He should be sacked for these comments".
He also welcomed the position of Labour MP Clare Short, who last week confirmed she is to stand down as an MP at the next election after admitting she was "profoundly ashamed of the Government", saying other Labour Muslim MPs needed to learn from stance.
Mr Khan was not alone in his condemnation for the Home Secretary.
Ahmed Versi, editor of The Muslim News said Mr Reid's comments amounted to "farce".
"He is taking to extreme lengths the Government's false premises about so-called extremism. What is he asking Muslim parents to spy on? To watch when they are ever late and then report suspicions to anti-terrorist police to intervene and have them interrogated for 28 days? It's pure farce," he said.
By Zakia Yousaf