 Star promotes new film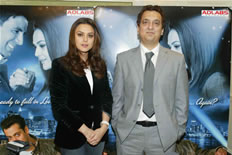 Bollywood superstar Preity Zinta was the star attraction in London as she promoted her soon to be released film 'Jaan-e-Mann'.
The beauty appeared before press at London's swanky Bentley Hotel alongside film's producer Sajid Nadiadwala.
The film, which also stars Salman Khan and Akshay Kumar, was partly shot in the capital and Preity said shooting on Tower Bridge was one of her highlights of the movie.
"As a kid I was very exited about London and the Tower Bridge", she said on working on location in London.
The film, which will be released nationwide on October 20, tells the story of a love triangle between three college students – Salman Khan, Akshay Kumar, Preity Zinta.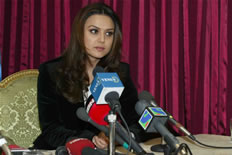 It is expected to be a big hit with producer Sajid Nadiadwala having spent
Rs 350 million on the film.