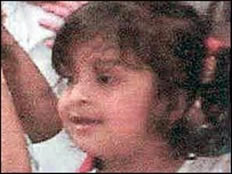 A SIX-YEAR-OLD girl who was killed after an arson attack on her home was the innocent victim of an attempt to scare her brother into ending his relationship with a girl, a court has heard.
Alisha Begum, (pictured right) died in March this year after her family home in Aston, Birmingham was firebombed.
She was the only victim of the fire after her mother and brothers and sisters escaped the blaze after breaking a window to escape.
Hussain Ahmed, 26, of Harborne, and Daryll Tuzzio, 18, from Perry Barr deny murder and the attempted murder of nine of Alisha's relatives.
The court was told Alisha's older brother Abdul Hamid, 21, had started a relationship with Mr Ahmed's 15-year-old sister Meherun Khanum.
But the girls family disapproved of the relationship.
The arson attack, prosecutor Adrian Redgrave claimed was a way to warn Mr Hamid into ending his relationship with the accused's sister.
24 hours before the arson attack, Mr Hamid had received a threatening phone call, the court was told.
Alisha, the youngest of 12 children was asleep in her bunk bed when a masked man burst through the front door and poured petrol in the hallway before lighting a match, Mr Redgrave said.
The blaze quickly spread up the stairs and family members were forced to jump out of windows to escape the raging fire.
Alisha was found by firefighters but died at Birmingham's Children's Hospital the next day.
Mr Redgrave also told the court two other men, Mr Ahmed's brother, Mohammed Foaz Ahmed, and a close friend, Jabed Ali, were wanted in connection with the incident but had subsequently disappeared.
He added although there was no evidence that Mr Ahmed was at the scene of the attack, it was clear he had directed the attack.
The trial continues.