 Star to return In DLF Cup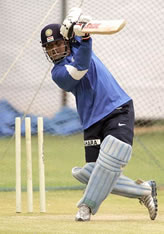 Indian cricket fans have been boosted by news that star player Sachin Tendulkar is "fully fit" and in "good spirits" ahead of the teams DLF Cup against West Indies and Australia.
News of Tendulkar's fitness was broken by coach Greg Chappell who witnessed his player at his best in a practice match between Virender Sehwag XI and Harbhajan Singh XI.
"The time spent in the middle was excellent for Tendulkar", Chappell said after watching Tendulkar hit 101 off 83 balls, including 12 fours and three sixes.
Tendulkar is expected to make his first-team return to action in the tri-series DLF Cup in Malaysia against the West Indies and Australia.
He may be given the chance to open with captain Rahul Dravid – a new move likened by Chappell despite the two only having opened together in just three past one-day internationals.
"We know each other well," said Dravid while commenting on the stand. "I have come a slot up or down, and then we have batted together on a lot of occasions over the last 10 years. It's the same when we are opening." He added that the opening combination for the DLF Cup would depend on the conditions and the match situation.
Meanwhile Yuvraj Singh has been left out of the squad after going down with a mysterious fever.