 A 42-year-old woman had been charged with the murder of shopkeeper Sivaperakash Supramaniam.
Janine Spence, 42, of Harrow Road, Wembley, north London, is due to appear at Brent Magistrate's Court on Friday.
Sivaperakash Supramaniam, 33, was stabbed near his shop in Wembley last Thursday after his wife was involved in an argument with two people.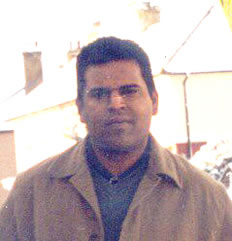 Sivaperakash Supramaniam

Police in north-west London have appealed for witnesses to come forward after a shopkeeper was stabbed to death just yards from his shop.
32-year-old Sivaperakash Supramaniam was stabbed following a confrontation with a man and woman who were arguing with his wife in the couples Haran Food and Wine shop in Wembley.
Officers today returned to the scene of the murder and handed out leaflets to locals.
Investigating Officer DI Paula Craig said: "This was a vicious attack which occurred on a busy street on a summer's evening. It is possible that members of the public saw the suspects in the Harrow Road before the incident in the shop, or leave the scene after the stabbing in Tring Avenue. If anyone saw anything suspicious in the area at the time I would urge them to call the Incident Room."
Mr Supramaniam, who lived next to his store, Haran Food & Wine in Harrow Road, left the shop briefly only to return to find a man and a woman arguing with his wife.
He followed the couple from the shop around the corner into Tring Avenue, where he was attacked and stabbed.
Mr Supramaniam was taken to Central Middlesex Hospital but was pronounced dead shortly after arrival.
The suspects are described as a black female and black male, both aged in their 40's.