 Bolton ace looks to Ashes nod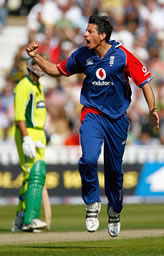 Sajid Mahmood almost certainly booked his place on the Ashes tour after a fine display saw England tie the one-day series against Pakistan with a three-wicket victory.
The fast bowler took two wickets, including that of Pakistan favourite Mohammed Yousuf, as well as hitting an unbeaten 22 to lead his side to victory and bag the man-of-the-match award.
England had looked dead and buried in the series, going 2-0 down with two matches to play but a solid victory last Friday at Trent Bridge meant England had everything to gain going into the Edgbaston match.
Having reduced Pakistan to 154-9, England looked to be on shaky ground after losing three quick wickets with the score on 49. But a solid 34 from Kevin Pietersen and 22 from Paul Collingwood put England on their way with Sajid Mahmood (unbeaten 22) and Michael Yardy (unbeaten 12) hitting the winning runs.
The Bolton-born player, who was again the victim of boos from the Pakistani fans, was praised by captain Andrew Strauss.
"I know that Saj does all his talking on the pitch and that is the way it should be," said Strauss.
"As an international cricketer you have to get used to not getting things all your own way from the crowd and it's important to block that out as much as possible. He's got a great attitude and he showed a cool head there at the end to see us home.
"I know he's feeling very happy tonight and it's great to see young players going out there to perform.
"Saj has got a lot of very, very good attributes as a bowler.
"He has got pace, he can swing the ball, he can reverse-swing the ball but he's young and he's going to make mistakes at times and not get it all right.
"It's just a question of learning from his experiences, learning from his mistakes and he's doing that pretty well.
"He has learned a lot over the last six months and he'll continue to do that in the future."
But while England celebrated and look ahead to next months Champions Trophy, Pakistan will now concentrate on captain Inzamam-ul-Haq's ICC hearing later this month.
Coach Bob Woolmer admitted the fourth test fiasco had a lot to play as his team lost their 2-0 lead to draw the series.
"Coming back from a terrible week to play so well in four games – including the Twenty20 – took a lot of energy and it finally petered out," he said.
"There was no fuel left in the tank – it's been a big emotional drain."