 Football Fever for Nihal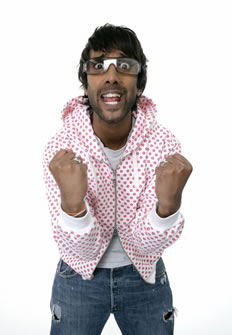 Get ready for Premiership football like you've never heard it before… not just all the goals, not just all the gossip, but also all the glamour and all the grimness that's all part of the beautiful game, served up at breakneck speed and mixed in with the hottest big tunes and even hotter hyper-interactivity from listeners.
If it doesn't sound like a traditional football show then that's maybe because it's aimed at very untraditional fans – for the other big difference about this Saturday afternoon spectacular is that it's on the BBC's Asian Network, aimed at an audience not normally noted for its football fanaticism.
"Everybody immediately associates Asians with cricket, and yet there are hordes of Asian football fans too," points out the programme's presenter, Nihal – another break with convention, as he's first and foremost a music DJ, both on Radio 1 where he and Bobby Friction play the best Asian beats each Wednesday night, and also a hot property in clubs worldwide. "You only have to see the likes of Wolves and Sunderland, who have their own Punjabi armies," he continues enthusiastically. "So we want to represent just how fanatical Asians really are about football."
Perhaps surprisingly, it's actually the most popular sport among the Asian community nowadays – so the time is ripe for the new show.
"At the World Cup there were Asians going abroad to support England and there was a lot of coverage of that in the media," Nihal comments. "We want to make sure that we keep that going and it's not just a press story on a quiet day; it is something that is genuinely there. But also, while Asians support teams and are really into football, there is still a distinct lack of Asians actually going to the games and feeling like they would be made welcome, and that's also a barrier that we want to overcome."
And they've got the support of the Premiership and the FA to that end. "They're very excited about the show," Nihal grins. "With their help, and from the clubs themselves, we're going to go out and do interviews with the players."
But true to the show's ethos, they won't be asking the same-old standard soccer stuff…
"We're going to play them Asian tracks and see which ones they rate and which ones they don't like as much!" Nihal smiles, explaining, "music is a great in with players; they love to club, they love to go out and dance and some of them are very, very knowledgeable about music.
"And music and football are so interlinked these days. Kids' shows used to want pop stars, actors, film stars – now they want footballers as well. Football is ghetto glamour. I'm intrigued by footballers – often people have this perception of them as being overpaid, arrogant, petulant people; we just want to get on a level with them, chat to them, have a laugh, ask them some cheeky questions," he says, adding that the show will tend towards the irreverent.
"We'll probably get into a bit of trouble," he admits, adding with a grin, "and if we don't we'll be disappointed!"
Tottenham Hotspur fan Nihal – who went to the same school as Glenn Hoddle in the die-hard Spurs area of Essex in which he grew up – is expecting some stick for his unapologetically partisan views, but the 35-year-old is relishing the chance of some fierce and funny footy banter with listeners. "It's my personality," he laughs. "If I dish it out I'll have to be able to take it."
He's recently used his outspoken side and gift of the gab as part of London's 2012 Olympics bid and continues to be involved in the Olympics areas of education and the arts. "I want the disenfranchised kids who live around that area, and indeed up and down the country, to see how the Olympic movement can relate to them and how they can relate to it. It's a horrible word, but how are they going to be stakeholders in that Olympic vision?" he says. "There's going to be a lot of posh people from the Establishment talking about that – our job is to make sure they do something about it. I hope I'm strong enough and brave enough to be able to do that."
He's also pushing the agenda of the arts to the establishment at the British Council where he recently became a board member. "The British Council is all Sir this and Lord that, so getting a joker like me involved is quite interesting for them!" he grins.
Nihal certainly has a busy schedule. He has also been deputising on prime-time Radio 1 recently and running his regular Bombay Bronx club night – which raises money for tsunami victims and Teardrop Relief – but he was determined to take on the football show as well.
"It's an honour for me," he enthuses. "I wanted to do a show for the Asian Network that could connect with the wider
world, and it's also amazing to do a show that's not purely music, because my life has revolved around music for so many years now – although I absolutely adore it and it's the very core of what I am."
Inevitably then music will be a key part of the show, setting the mood with the big Asian tunes and promising the pace and energy of a North London derby. "I'll be playing tracks that are going to make you get up and make you as excited as we are – but we'll break that track halfway through if we have to because someone's just scored a goal," he says.
"We're going to get listeners up on the calls, on the texts, on email," he continues. "We want to talk to them, find out where they are, what they're doing, who they support, who they want to slag off, what player played brilliantly, which decision should not have happened – we're totally interactive."
And while it's very definitely a Premiership show, there is a real Asian vibe to it, enhanced by the match reporters.
"It isn't going to be a Steve, a Phil or a Kevin doing those match reports – it'll be a Sanjay or a Raj, or even a Juggy D who's a big Asian artist," explains Nihal. "I think that once people hear an Asian voice coming from a Premiership ground saying 'This is happening, I'm here, the atmosphere is amazing,' people will feel more empowered to go; there are a lot of Asians who do go but there's a lot more who could go. What we want to overcome is the psychological barrier."
While Nihal reckons this will eventually happen naturally, it wouldn't hurt to speed things along a bit – which might also help encourage more Asians to play professionally.
"I think that being a footballer is not something that Asian parents of our parents' generation want to see their kids doing," he says. "Very often you'll find that footballers come from deprived, working-class backgrounds and in the Asian working-class the onus is to try and get out of that by more orthodox means, whether that be business or law or medicine or wherever because it doesn't matter how many hours you put in to training in football, you just may not ever make it. But the Asian Wayne Rooney or Michael Owen is out there. He may be just six or seven years old now, but he exists – and hopefully the Asian Network can help discover him.
"I think also there are cultural barriers from within football itself. It was often said 25 years ago that black people weren't strong enough to play football – they didn't have that grit, that attitude. No one's going to say that to Thierry Henry or Patrick Vieira or Ledley King now… so those things change. Now there's [Asian players] Zesh Rehman at Fulham and Michael Chopra, who was at Newcastle and is now at Cardiff. It's slow progress but the third generation – the kids of the second generation, like myself – my kids, when I hopefully have them, and then their kids, will be brought up in a time where football is acceptable in that respect. My father grew up in Sri Lanka and would never have thought this is a career path for his son – though I'm not sure that a radio DJ is anything he's particularly proud of either! But that will change, because we're raised here, raised around football."
Though he wouldn't have wanted him to play, Nihal's dad was a trailblazer in that he took his family to White Hart Lane in the early Eighties.
"It's amazing to think back. In the Eighties racism was very high in football grounds. Luckily Tottenham is one of the least racist grounds you'll ever go to, but it was incredibly brave of my father – probably naïvely brave – to take a little Asian family along, sitting there surrounded by white people. We must have been the only Asians in the ground!"
It ignited a passion in Nihal that still burns fiercely – although he admits that his own playing skills leave something to be desired. "I'm a bit of a rowdy player – there is something of the Zidane in me at times! When I first started a job in music PR we had a five-a-side team and the first time we played I got sent off! As a good Buddhist, which is what I am, I should be a little bit more chilled out on the field but I am very competitive. I need more skill and less anger!"
But he exhorts everyone to experience a live game.
"Just being part of it, being at a football ground, for anyone who's never been, is impossible to describe – that feeling of being part of something so huge, maybe 25,000 people all shouting the same thing together; jumping up and hugging a bloke you've never met before in your life, people all around each other just going mad. It's amazing what it brings out of you – the most primeval, carnal, tribal instincts. If I go to a football game I wouldn't be able to do a radio show the day after. I'd literally be hoarse – you spend the whole 90 minutes screaming at people!" he laughs.
"And the Asian community needs to realise that football grounds are welcoming places. People are too busy hating the other team to hate you! And football grounds themselves take racism very seriously – if they hear racist chants the stewards will have those people taken out of the ground and they will be banned, and that's very important."
He adds with a laugh, "That's if the fans themselves don't turn round and give the guy a walloping. How can you possibly be racist and be a football supporter in 2006? There is not a team in the country that has an all-white team. Football these days is all-inclusive; it is the preserve of everybody who loves it."
But he's keen to stress that he's not on any bandwagon. "This show isn't about, oh let's kick racism out of football. It's about loving and enjoying football. We're not going to be moaning, we're celebrating football."
'Kickin off with Nihal', every Saturday, 3pm – 5pm, the BBC Asian Network