 Can Brit Asian's support England?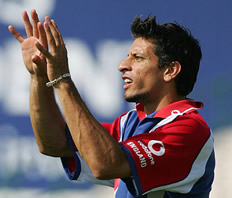 British or Pakistani? Sajid Mahmood
When I heard Sajid Mahmood was on the receiving end of abuse from a section of the Headingly crowd in the third Test against Pakistan can I honestly say I was surprised? Not one bit.
The promising young bowler was forced to endure calls of 'traitor' from a small minority of the crowd on a day where he proudly displayed his growing maturity as an England player.
As the son of Pakistani parents, it was obvious Mahmood's allegiance to England was causing some Pakistani (largely British Asian) supporters a lot of pain. Why was Sajid Mahmood, a Muslim and British Pakistani playing for England?
This is a question I've come across many a time since the 25-year-old decided England was the team for him. Crucially though, he embodies a growing number of sportsmen and women who have proudly taken up the three lions of England. Fellow cricketers Monty Panesar, Kabir Ali and Vikram Solanki, boxing stars Amir Khan and Naseem Hamed, and female football star Aman Dosanj are all British Asians and have all chosen to represent England.
Last year ahead of England's tour of Pakistan I wrote an article on how England's triumphant Ashes series had many British Asians reveling in the country's success. In a sport where many British Asians turn their support to their 'homeland', it was ironic to hear British Asians tell me of their immense delight at watching English heroes Michael Vaughan and Freddie Flintoff bring the Ashes 'home'. So why when it comes to Pakistan, do British Asian cricket supporters find it so hard to support England?
For that article I spoke to Mohammed Ansar, a 38-year-old Widening Participation Officer for Birmingham University and a firm believer British Asians should support England. I spoke to him recently asking him what his thoughts were on England star Mahmood being labeled a 'traitor' for choosing England over Pakistan.
"Personally I thought it was disgusting and narrow minded of the Pakistani fans to boo Saj", he tells me.
"His family were overjoyed that their son was playing for England and if his family could accept that fact, then so should the supporters of Pakistan. I didn't feel like booing when Inzaman was hitting the bowlers around the pitch, so I don't expect anyone else to show disrespect to a British Asian that wants to play for England.
"If I was Sajid Mahmood, I would be angry and disappointed at the behaviour of some elements of the crowd and in the next match, I would want to get my own back by bowling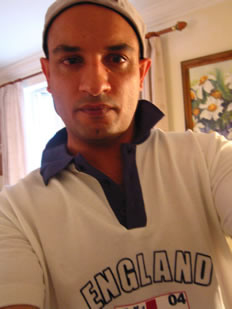 Proud Brit: M. Ansar
that little bit faster.
"I'm sure that if some of those young lads that were booing had the opportunity to play for England, whether it was cricket, football or crown green bowling, they would jump at the chance without even one moment of hesitation."
Mohammed is one of a few British Pakistani's who will support England no matter who the opponents are. He is, he tells me a "British Asian and not a Pakistani Asian [whose] roots are in this country".
"I support England because I am a British Asian, not a Pakistani Asian living in England who has strong roots back home. My roots are in this country and the least I can do is to support the national team. That's not to say that when Pakistan are playing somebody else, I don't take any interest, but when it comes to playing England, there is no choice for me." 
Mohammed's views are at best indicative of a small minority of British Pakistani's.
For Tariq Khan, an inner city councilor from Birmingham, supporting the Pakistan cricket team is something that is a part of his Pakistani identity.
In a house where his son proudly supports England, Mr Khan said there was a generation issue leading some British Asian's born here to support the country of their parents' birth.
"I supported Pakistan during the Test series and my son supported England which is great. When England are playing other countries in cricket I do support England but because of our roots, our culture, our traditions and the way we've been brought up by our parents who were born in Pakistan, there is no other team to lend our support to", he said.
Sixteen years on from Norman Tebbit's infamous "cricket test", Mr Khan said British Pakistani's supporting Pakistan were no less British because of their cricketing choices.
 "Like myself the majority of British Pakistani's have been brought up to support Pakistan in cricket.
 If you ask a Welsh man or Scottish man living in England who they support in Rugby they will never say England, It will always be Wales or Scotland so why is there such a big issue when it comes to British Pakistani's supporting Pakistan on the cricket field?"
He described the abuse directed at Mahmood a "disgrace" adding the player had broken down "barriers" in getting recognised as an England international.
"It was a disgrace the way he was treated on the boundary, he's an up and coming rising star and we should be proud of that because of everything that's been going on with 7/7 and the way Muslims have been portrayed in a negative way.
"Sajid Mahmood is something positive that has come out of the Muslim community and the way that he was insulted in that way by our Pakistani crowd is inappropriate behaviour.
"He's done excellent to break into the England team and as an Asian, be it Muslim or Sikh, Sajid Mahmood has broken down all the barriers and got into a position where it would have seemed impossible five years ago. Pakistani's in general are moving forward, and Sajid Mahmood is an example of that."
How Mahmood will progress as an England cricketer is a matter only the selectors and the player himself can determine. But his position as a role model for young British Asians is assured.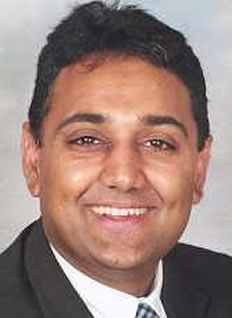 Tariq Khan
"Sajid Mahmood is a role model for young British Asians without question and his choice to wear the England colours will be accepted by British Pakistani's in due course", Mr Khan said, adding, "My son supports England because as the generations go by you will find more and more Asian youngsters in this country choosing to support England in all sports."
He also predicted there was more to come in the way of Asian players breaking into the England team.
"I predict in the next 10 years half of the England team will be Asian and that's a fantastic thought, we're slowly moving into a new ear where Asian cricket stars are being recognized on an international level .Sajid Mahmood will eventually be accepted by British Pakistani's as an England player and he will ultimately pave the way for other British Asian cricket stars to break into the international scene for England."
His view was also shared by Mohammed. "There is no one in this country who could tell me that more young Asians have never been good enough to make it to the professional levels. There is a wealth of talent out there and more of it should be nurtured. Look at Nasser Hussain, Monty Panesar, Saj Mahmood and the others that have played for the national cricket team and made massive contributions to the game. This is just the beginning of young British Asian's breaking into the England team."
By Zakia Yousaf