 Captain confident ahead of hearing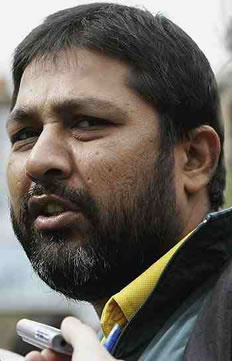 CONFIDENT: Inzamam-ul-Haq

PAKISTAN captain Inzaman-ul-Haq is confident the ball tampering charges against him will be dropped when he appears before an ICC committee later this month.
He was slapped with the charges during the dramatic fourth test against England at the Oval when Australian umpire Darrell Hair (pictured below) accused the 36-year-old of deliberately tampering with the ball.
But during one of cricket's biggest controversies which included an e-mail sent by Hair offering to resign for $500,000, Inzamam has told reporters he is "100%" confident he will be cleared later this month.
"I'm sure 100% because I have done nothing," Inzamam said. "That is why I am doing these things, because I know we are not guilty and that is why we take this stance."
He also said Hair was in
"big trouble" for his role in the forfeited match.
"Darrell is in big trouble, I don't know why he is doing these things.
"I was quite happy to play the game after half an hour – and then the next day – because we had launched our protest," he said. "I don't know why he [Hair] was not interested in playing."
The controversy erupted on the fourth day of the Oval Test when umpire Hair deemed that ball had been tampered with and awarded England five runs.
While Pakistan refused to return to the crease in protest at the decision, Hair removed the bails and awarded the match to England.
In the days after a number of news reports emerged suggesting England coach Duncan Fletcher may have influenced the umpires when he visited their dressing room on the morning of the fourth day – a claim he has denied.
But in the biggest twist of all, four days after the controversy began, ICC chief Malcolm Speed revealed details of an e-mail sent by umpire Hair in which he offered to resign for $500,000.
News of the e-mail sent shockwaves across the cricketing world with Zaheer Abbas, Pakistan team manager, claiming the e-mail had vindicated his team from any wrongdoing.
"This is a huge victory, and it makes a strong case fur us to be cleared on ball-tampering", Abbas said in response to Hair's e-mail.
"We were very confident that we hadn't tampered with the ball – we didn't like the way the whole thing was projected to the world. It has also vindicated our case."
While Inzamam looks ahead to a hearing against ball tampering charges at the end of the month, the ICC have confirmed Pakistan have requested a separate hearing into the conduct of Hair.
Pakistan Cricket Board Chairman Shaharyar Khan said the PCB wanted Hair investigated.
The CRICKETER With Mansoor Ahmed
ICC smells Fishy…
Knocking about teams from the sub continent has become a hobby for the top brass at ICC.
Darrell Hair has been insulting Asian players for several years now but his latest antics appear to have ended his career. Having triggered the whole incident off for no apparent reason, without any evidence, he was very quick to award the game to England. The PCB, ECB, ICC and both captains were keen play next day but one stubborn man ensured that match ended in controversy. One also has to ask, why didn't Mike Proctor, the match referee intervene?
Now that the dust is beginning to settle, questions must be asked as to the roles played by Malcolm Speed and Doug Cowie in the entire episode. The contradictory statements coming out of the ICC shows not all is crystal clear. To get to the truth, the ICC needs to be independently investigated.
ICC chief Malcolm Speed has been defending Daryl Hair from the very start claiming that Hair had made the offer under great stress and for the good of the game. If that was the case, why didn't Hair just resigned and worry about compensation later? Speed found nothing sinister in Hairs offer, he didn't see anything strange in his offer to take money to resign and yield his "principled" position! He didn't even feel strange that he withdrew his offer when told that the PCB would hear about it!
The email itself was immaculately formatted, no spelling errors – seemed very well thought out, refers to advice he has received. Very stressful indeed! If anyone is to be charged with bringing the game into disrepute, it should be Hair.
In the emails released, Doug Cowie replied to Hair's initial email, whereby he is seeking a bribe, with the response that the 'offer had merit.' This is very worrying. It would be difficult to comprehend that Doug Cowie would have replied to Hair's request for a bribe without any prior discussion with Malcolm Speed, the chief executive of the ICC.
Daryl has now issued a statement through his lawyer claiming that it was indeed ICC who asked him to make the offer and was told to put in writing after verbal negotiations. Does this mean Malcolm Speed has been telling us porkies ?! Did Hair and ICC only talk in emails? What else was said? Is there a cover up? Who are they protecting? Who will police the policeman? What role did Mike Proctor play? There are many other questions being raised throughout the media, which can only be answered once a full and independent inquiry has been conducted into the goings on at the ICC.