 Panesar singled out by Aussies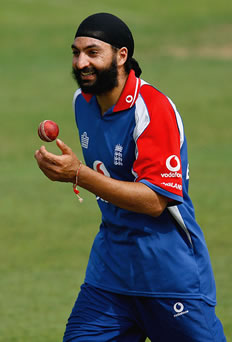 TARGETED: Monty Panesar

ENGLAND SPINNER Monty Panesar has been singled out by the Australian team with wicketkeeper Adam Gilchrist claiming his team will single him out when the two teams meet for the Ashe's re-match this winter.
The Northants spinner has made a remarkable impression in the England team since he made his debut against Indian in Nagpur earlier this year.
His impressive display against Pakistan in the Test series has brought him to the attention of the Australian team and they've made not secret of the fact he will be on their target list come this Winter when England go to Australia hoping to hold onto the Ashes.
"He's a terrific young bowler, a terrific young character and has an obvious passion for the game and he'll add a real flavour and touch to this series," Australian vice-captain Adam Gilchrist said. "Like any new spinner we haven't seen before we'll try to get on top of him before he gets on top of us but a lot of that will be dictated by the conditions and the match scenario."
And batsman Simon Katich added he was "impressed" by the 24-year-old.
"I faced him last year on the Ashes tour and I was impressed.
"Monty is a bowler who tries to give you a bit of air. He does try and turn it. He is bowling genuine wicket-taking balls and knocking good players over."
England will play Australia this winter hoping to retain the Ashes crown they so dramatically won last Summer.