Popular Food Blogger, Sandhya Hariharan creates an exclusive menu for ASDA's Diwali Fiesta, this year.

Besides being a festival for twinkling lights, Diwali is also time for beautiful traditions, vibrant colours, stunning fireworks and delicious food! And when it comes to celebrating food, ASDA is always excited to join the momentum and spread the festive spirit.
This year ASDA hosted a special Diwali event, with great enthusiasm and sheer delight. Held at Layalina, a restaurant in the heart of Knightsbridge, the room was decorated with traditional diyas, fragrant candles, colourful lights and vibrant colors of marigold for a festive atmosphere.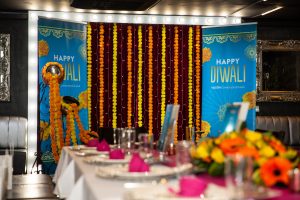 Host for the evening, Sandhya Hariharan, a popular food blogger, presented an exclusive five-course meal that included her favourite traditional Diwali dishes but with special twists. Keeping up with its traditions, ASDA invited   guests and prominent personalities from the media and culinary world for an evening to remember.
The event began in a traditional manner with beautiful diyas being lit and a special mango and coconut ladoo served to all the guests on arrival. Diwali is the time when people indulge in sweet without any guilt. And ladoos are a quintessential mithai to celebrate the festival of Diwali with. At the Asda Diwali dinner, Sandhya served her family's favourite, coconut laddoos but with a slight twist adding mango to the delectable welcome treat.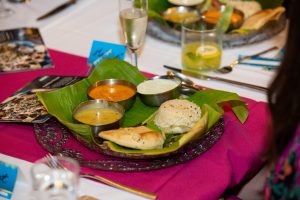 The Diwali feast also initiated some great conversations of flavours amongst our guests as they relished every bite that was served. The celebration brought together some great food bloggers and influencers like Ashanti Omkar from the BBC Asia Network and popular blogger and doctor, DR. Chintal.
Speaking about the menu, Sandhya said: "I have been very excited to host this Diwali Party with ASDA. Right from deciding the menu to actually getting down to cooking, it has been a great adventure. Teaming with ASDA has been wonderful as all my ingredients are easily available at one store and there has been no running around to different location to source ingredients. I'm thankful to each guest who took out time from their busy schedule to make this event a success. And I am grateful to ASDA for placing the trust in me and giving me freedom to come up with an exciting array of vegetarian dishes with their high-quality ingredients."
Guests were pleasantly surprised to know that the entire Diwali menu was created with quality ingredients bought from ASDA, making it easily possible to recreate any of the dishes, at home.
Shabnam Shahi was thrilled to attend event and added, "I am so delighted to be a part of this culinary celebration that fused flavour, taste and tradition with an array of amazing dishes with quirky twists. I think these lovely dishes can be great repeats and are not just delightful ideas for Diwali but for are lovely for any kind of celebration. It was also wonderful to know that all the ingredients for these yummy dishes can be conveniently found in Asda, all under one roof… wow!"
ASDA truly brought to light the traditional way of celebrating Diwali by hosting this cultural event. The detectable flavours from all the dishes kept the celebration spirit high throughout the evening. By bringing together people and food from one culture, and showcasing their range of high-quality ingredients, ASDA spread Diwali cheer in the UK!