Two Birmingham convenience stores are taking part in what will become an historic retail operation this weekend.
Skwishee, the UK's fastest-growing frozen fizzy drinks brand, are lining up to sell one million litres in a unique promotion this weekend.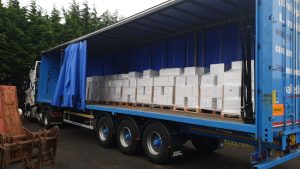 Nisa Local of Crabtree Road, Hockley and Simply Local-Grand Central of Stephenson Street, will be involved in the UK's first "Bring Your Own Cup Day" at over 100 outlets nationwide on Saturday and Sunday.
This weekend, Skwishee fans are invited to fill any receptacle of any size below 25cm in diameter with the frozenated drink. There are no restrictions on length.
It will cost just £2.99 per portion, which is the price normally charged by Skwishee for a large cup containing 600ml.
The company have distributed one million extra litres to their stockists and fully expect to get through them by Sunday night.
Skwishee stockists can be found throughout the country, with outlets scattered from Shetland in the far north to the Euro Tunnel on the south coast.
Raza Rehman, the company's Chief Skwisheeologist, said: "We believe this is the first mass promotion of this kind in this country.
"Skwishee is already a very popular brand and demand is growing month on month.
"Our fans are extremely loyal and this is our way of saying thank you to them for their support since we launched two years ago."