The Green Lane Mosque in Small Heath has officially opened an orphanage in Turkey  for hundreds of Syrian children who are orphaned and forced to flee their homes after raising an amazing £825,000 for the project.
The Task Force GLM group, worked with international aid charity Human Appeal on the orphanage providing a home as well as physical and emotional support for 240 orphans and 40 widows who have crossed the border from their war-torn homeland.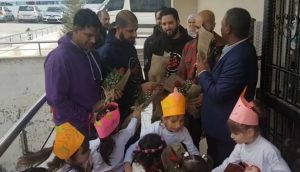 Idris Kiyani was one of the team to meet the children, in the Turkish town of Gazientep. He said: "In almost every home we visited there we just women and children. They have lost a generation of men to the war. The children have no father figures."
He talked of the difficulties of the youngsters despite the poverty and horrors they had been through. "If you're feeling down, struggling there is nothing more inspiring than kids, they will always find a way to smile," he said.
"They welcomed us with open arms and gifts – the hospitality of these people is remarkable."
Cllr Majid Mahmood took winter aid packs of coats, gloves, socks as well as toys and sweets to the children after raising £10,000.
"I met one family of four children whose mother was in hospital. The 13-year-old sister is taking the role of mother and father, looking after three children. She has no choice. They are similar ages to my own children, it was heartbreaking."
He said that the children's mother is paralysed on one side and they will have to care for her.
He added: "We are able to help thanks to the generosity of Brummies. This must be one of the largest Syria fund raising efforts in the country "
The orphanage projects was the latest in a series of Syria fund raising efforts by the Mosque since 2012, including money for emergency food for refugees, flour to make bread and winter packs of coats and blankets.
Amer Ijaz, the mosque secretary, estimates the community has raised about £3 million in total, with 100 per cent of the money going to the front line through Human Appeal. They also raise money for local community causes.
Mr Ijaz said that charity is a key aim of Islam and that the online fund raising campaign will continue.
One future aim is to set up a factory to provide work for the refugees, to help them build new lives following the tragedy of war.