Birmingham Youth Sports Academy (BYSA) 1st Girls Project was a massive celebration with our very own Midland club West Bromwich Albion FC.
On Saturday 2nd December 2017 the BYSA prepared a fun action packed day out for the girls to celebrate and enjoy the life of a footballer which include a full match day package with WBA FC. The day started with a stadium tour, training sessions in the indoor DOME by the Albion foundation coaches, Lunch, awards presentation and thereafter to finish off to watch a live Premiership match against Crystal Palace FC which resulted in a 0-0 draw.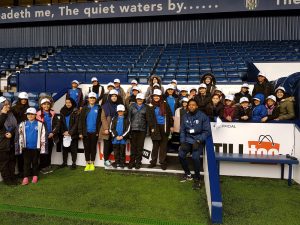 40 girls took part in the mascot package who confirmed they have never been to a stadium or watch a live match, this was one of the reasons the trip was formed the project covered a lot of core points that the BYSA aims to achieve, getting more girls involved in playing football. BYSA hope to triple the numbers in the near future like the boy's project, which has gone from strength to strength. Currently, there are 100 boys attending a similar match day package on the 31/12/17 where WBA FC will play Arsenal FC. This will be a treat for the boys to finish the year with a great trip to remember, similar to what the girl's team have experienced. BYSA is already in the planning for the next trip for next year for the girl's team to a top profile premiership club or match for 2018.
BYSA hope to get more trips organised to clubs and start a mentoring programme for the girls to get more girls active and socialising on and off the pitch.
BYSA Representative said "A big thank you to our Female Head Coach Ms. Amina Begum and her team of dedicated volunteers putting such a great trip together for the girls that have been apart of the project since it started over a year ago and this was the way to celebrate it, Thank you to HSBC for donating to the project and the members of staff that attended the day to see the great work been done and achieved".
"We encourage all girls to get involved in the project and follow us on social media , if you are interested in volunteering please get in contact with Amina Begum Head coach at saltley leisure centre on Sunday mornings from 11am-12pm where the project is held every Sunday absolutely FREE thank you to our partnership with the Saltley Wellbeing Centre".