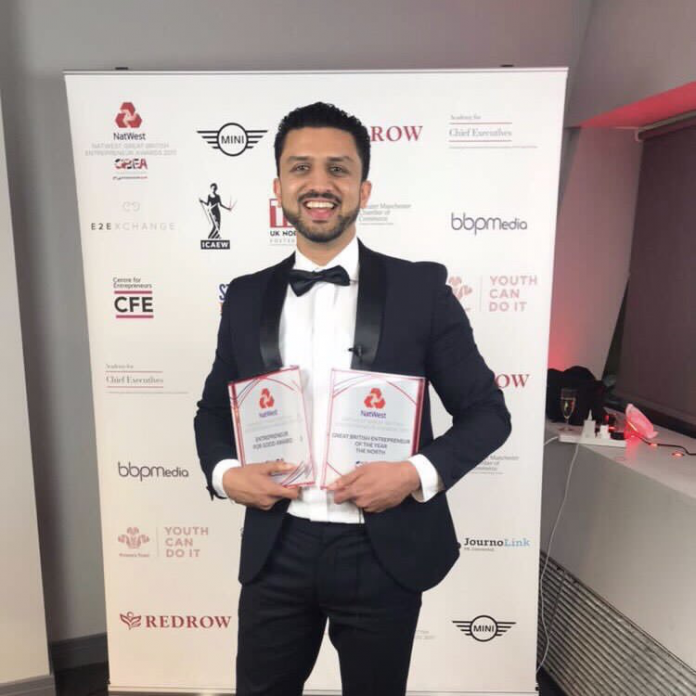 Founder and Chairman of award-winning Humanitarian Charity Penny Appeal, Adeem Younis, has walked away with two prestigious NatWest Great British Entrepreneur Awards: 'Entrepreneur for Good' and 'Entrepreneur of the Year – North' at a ceremony in Manchester last night.
Beating off stiff competition from more than 1000 business leaders who entered the awards nationally, Adeem said "I am thrilled that we have won, not just one, but two awards. This is real testament to the hard work and dedication of the whole team at Penny Appeal who have leveraged the fruits of entrepreneurship as an indomitable force for good."
He continued: "Winning recognises the incredible effort of our diverse staff and dedicated volunteers who carry out life-saving work here in the UK and in over 30 countries across the world. For example, we have teams of volunteers on the ground right now supporting refugees in Rohingya and have dispatched an immediate response team to Iran to help the earthquake victims, all made possible because of our incredible team."
Now in its fifth year, the NatWest Great British Entrepreneurship Awards highlight the hard work and inspiring stories of British entrepreneurs and businesses in Great Britain. The awards have celebrated some outstanding entrepreneurs who have gone on to become household names: David Buttress from Just Eat; Julie Deane from the Cambridge Satchel Company and James Watt, from Brewdog are just a few examples.
Creator of the Awards, Francesca James said: "We were inundated with some incredible entries this year and all applicants should be extremely proud of themselves. This year has seen a record number of entrants and we've been blown away by the strength and diversity of applications."
This year's judges included Former Dragon's Den star James Caan CBE, Hayley Parsons OBE, founder of GoCompare, Toni Mascolo, co-founder of TONI&GUY and Jeff Lynn, co-founder of Seedrs.
Full list of winners:
 #GoDo Entrepreneur of the Year
Anna Assassa
Tisski
At 18 years old, Anna Assassa was a graduate trainee and this helped her develop her love for technology and management. Now running Tisski, Anna is able to use technology to help herself and others.
Creative Industries Entrepreneur of the Year
Paul Corcoran
Agent Marketing
Paul Corcoran is Managing Director of Agent Marketing, a full-service marketing agency which he established in 2006.
Entrepreneur for Good 
Adeem Younis
Penny Appeal
As founder of world leading matrimonial website SingleMuslim.com, Adeem has helped facilitate 50,000+ marriages. In 2009, he established international humanitarian charity, Penny Appeal, transforming millions of lives across the globe through a range of sustainable poverty solutions.
Family Business Entrepreneur of the Year
Sean Ramsden
Ramsden International
Sean Ramsden is Chief Executive of Ramsden International, the leading wholesale exporter of British food and drink. He sells PG Tips, Marmite and Cadbury's (and 23,000 other products) on five continents.
High Street Entrepreneur of the Year
Josh Turner
Stand4 Socks
Josh Turner is a young, serial social entrepreneur who has focused his time and effort on building great disruptive companies with social betterment at their core. He is currently Founder and CEO of both Stand4 Ventures and Stand4 Socks.
Innovation Entrepreneur of the Year
Ross McMahon
Kendal Nutricare
Ross McMahon – a food scientist with 30 years' experience across three continents – has built his young company, Kendal Nutricare, on 55 years of Cumbrian manufacturing expertise.
Scale Up Entrepreneur of the Year
Tom Marley
The Car Buying Group
Established in 2014, The Car Buying Group was formed by young entrepreneur Tom Marley with the support of four shareholders, and is now the fastest growing online car purchasing website in the UK.
Small Business Entrepreneur of the Year
Mark Roberts
Beer Hawk
Mark Roberts co-founded Beer Hawk, together with Chris France, to bring the world's most interesting premium bottled beers to beer lovers across the UK.
Start Up Entrepreneur of the Year
Laura Earnshaw
myHappymind
Laura Earnshaw is the founder of myHappymind.org, an innovative curriculum for children and teachers that is focused on developing positive mental wellbeing.
Young Entrepreneur of the Year
Steven Bartlett & Dominic McGregor
Social Chain
Steven Bartlett & Dominic McGregor are the co-founders of Social Chain. Their business has grown to be one of the world's top social marketing agencies, and is Europe's largest social influencer network.
Overall Entrepreneur of the Year
Adeem Younis
Penny Appeal & Single Muslim