EMBARGOED TO 00.01 14 NOVEMBER 2017 – WORLD DIABETES DAY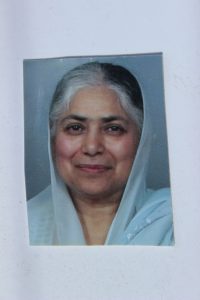 Mrs Baldev Ahluwalia, who lives in Sandwell, is just one of 7,485* people at risk of developing Type 2 diabetes in the West Midlands.
But thanks to the NHS diabetes prevention programme, Mrs Ahluwalia has a new lease of life. Today, on World Diabetes Day, Mrs Ahluwalia wants to help raise awareness of the condition and how others at risk could avoid this life-threatening disease.
The 71 year-old found out she was a high risk of developing Type 2 diabetes when she went for a routine Health Check at her GP surgery.  Because there is a strong history of diabetes in her family she was advised that she needed to make some simple lifestyle changes and her GP referred her to the local Healthier You: NHS Diabetes Prevention Programme (NHSDPP).
Baldev was happy to be referred to the NHSDPP saying: "I was pleased to find that the sessions would be run close to where I live and that I could take a friend along with me. Going with someone else meant that I couldn't let her down.  It helped me stick with it.  She is a good friend and, although she is not at risk herself, it was good to be able to share what I was going through with her."
Attending sessions at West Bromwich Fire Station Baldev continued: "Time was taken to explain things to us. I am actually a retired nurse, so I did already know what I was being told – I just hadn't put it into practice for myself!
"The sessions focused mostly on food changes and exercise.  It made me more determined to stick to healthy options because I knew I was going to be weighed and measured each week.
"I made changes to how I cook things and use the recipe books that were given to us and use different oils and butters.  One thing that really surprised me was how much sugar there is in fruit.  I love fruit, but I realise now that I have to cut down on how much of it I eat.  I have also switched to semi skimmed milk and a spread that is good for lowering cholesterol."
Baldev also started walking with her friend in a local park as well as joining a local gym to maintain her levels of exercise when the weather is bad.
"I am really pleased with the difference it has made.  I've lost about 9 ½ kilos, everything fits better.  It has helped my arthritis as well and I can walk more now.  I'm very happy and feel I have achieved something.  My friend has also lost weight.
"I would definitely recommend others at high risk of developing Type 2 diabetes to join their local NHS DPP programme."
The local monthly Healthier You: NHS Diabetes Prevention Programme (NHS DPP) sessions cover nutrition and exercise and suggested behavioural changes to maintain a healthy weight and become more physically active.
The NHS DPP was launched across Birmingham, Solihull and Sandwell in July last year and over 3,000 people have been referred on to the free programme in these areas.
Professor Vinod Patel, the clinical lead for the NHSDPP in the West Midlands and a consultant diabetologist at George Eliot Hospital said: "Type 2 diabetes can cause very serious health problems but sadly more people than ever are developing the condition, despite it being largely preventable. This new hands-on support is putting people in control of their health and the early results show it is working and reaching those most at risk. On this World Diabetes Day, we are encouraging those that think they may be at risk to speak to their GP to find out more about the NHS Diabetes Prevention Programme and please remember the best way to prevent diabetes is to maintain a good level of physical activity and a diet that supports you having a normal weight."
Professor Jonathan Valabhji, National Clinical Director for Diabetes at NHS England, added: "It is important that as part of World Diabetes Day we recognise the excellent work undertaken in the West Midlands to help people to prevent type 2 diabetes.
"Reaching over 7,000 referrals to the NHS DPP is not only a huge achievement for the programme in the West Midlands, but it's also fantastic news for the people who are getting help to become more active, eat more healthily and reduce their risk of developing type 2 diabetes."
Sue Turton, speaking for Living Well Taking Control (LWTC) the local Healthier You provider, said: "We are delighted to be delivering the NHS DPP in Birmingham, Sandwell and Solihull, helping people to understand what has put them at high risk of developing Type 2 diabetes and empower and motivate them to reduce their risk.  We know it can be difficult to change diet and exercise habits, but we've helped hundreds of people to do it – and enjoy the process of becoming healthier.  Type 2 diabetes is a serious condition, but the good news is that with appropriate action it can be avoided."
The numbers of patient referrals made to the NHS DPP in participating areas of the West Midlands at the end of September 2017 is 7,485.
Type 2 diabetes can cause serious long-term health problems. It's the most common cause of vision loss and blindness in people of working age, is responsible for most cases of kidney failure and lower limb amputation, other than accidents. People with diabetes are also up to five times more likely to have cardiovascular disease, such as a stroke, than those without diabetes.
World Diabetes Day – 14 November 2017
* As at end of September 2017