There is a new scam being broadcast via WhatsApp claiming that if you click a link within the message that you will be entiltled to a £250 voucher, which can be used at a Tesco, Asda or at a M&S store.
However this is a scm and not true. Users of WhatsApp are being told to be vigilant.
Asda has already sent out a statement confirming that these vouchers are bogus.
The fraudsters are sending out fake Marks & Spencer, Tesco and Asda vouchers on WhatsApp.
The WhatsApp message tells users of the service that, to celebrate Asda's 68th anniversarry, the retailer is offering everyone a free £250 voucher.
The message states – All you need to do is click on a link and fill in your details.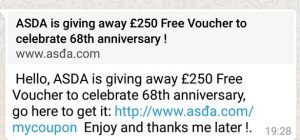 There are two tell-tale signs the scam is fake: the spelling and grammar mistakes and, if you manually type in the supposed url mentioned in the offer ( http://www.asda.com/mycoupon ), this page does not exist on Asda website.
The scammers can possibly plague your phone with a nasty virus when you click the fake link.