The boy with no skin – Moin Younis shines a light on bravery. Moin suffers from a rare and painful skin condition called Epidermolysis bullosa and is the only youngest in the world with this skin disorder.
Moin recived the 'Teenager of Courage honour at the Pride of Birmingham Awards this year has gone on to win the Pride of Britain Award and bagged a date with X Factor judge Nicole Scherzinger.
Moin Younis bowled over Singer Nicole with his 'charm and witt' and had Nicole in tears with his his incredible story of bravery. As Moin accepted his Award he said "No-one should ever give up".
The 17 year old said "A lot of people take life for granted, I don't know how long I'm going to be living this life for but while I'm here, I want to get a message to everyone out there.
After winning the Pride of Birmingham Award back in April Moin said:
"I want you to enjoy life because I would do anything to have a normal life myself.
"Please, please make the most of your life. Make the most of what you have."
Moin is also an ambassador of Acorns Children's Hospice and is determined not to let life get him down.
"I have no skin and I have to go into a bath," he explained. "It's just water. Imagine just cutting or burning yourself and putting that in water.
"Now just think for a second how much it would sting. That's pretty much how I feel everywhere.
"But I'm here. I'm learning to drive. I'm helping other kids. And I'm hoping the Villa do better."
Appropriately, his award was presented by Aston Villa legend Stiliyan Petrov – who himself has successfully battled acute leukemia to make a football comeback – and Olympic gold medal sprinter Marlon Devonish.
After going on to win the Pride of Britain Award Moin said: "Nicole was really interested in my story," Moin told the Birmingham Mail. "She really liked me.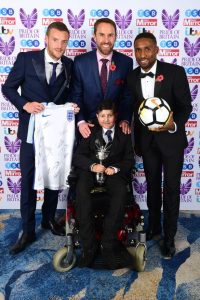 "When my video was playing she was crying. Then she came up and spoke to me, and she started crying again.
"She was really touched by my story."
Moin is also an ambassador for Acorn's Children's' Hospice, and despite being in constant agony he volunteers to help other seriously ill children.
A staunch Villa fan, Moin also is a regular as a pundit for Aston Villa's website.
Moin has admitted that last year things spiraled for him after becoming critically ill – and felt hopeless struggling to see life improving for himself.
Thankfully Moin has pulled himself through the difficult time and he wants to now inspire others to 'Keep going as good things will come'.
"I had a really tough year last year," he revealed. "I lost all my energy to live and I was in a depression.
"I was in hospital and I was thinking 'Why don't I just get taken from this world?'
"Now, I realise that everything happens for a reason. I got through that time and got to experience the happiest day of my life.
"So you should never give up, because there could be something amazing coming in your life.
"All you have to do is have a bit of patience and good things will come."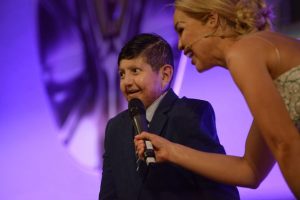 Moin, mum Shafia and dad Mohammed travelled down to the awards ceremony in London, organised by the Daily Mirror in partnership with TSB, and which are televised on ITV tonight (07.11.17)