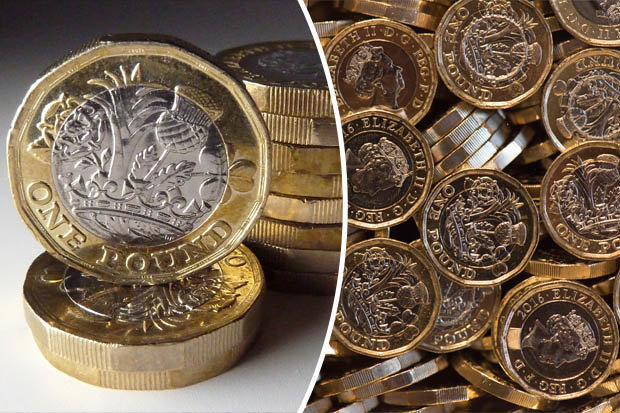 A week before businesses can refuse to accept them, shoppers have expressed their annoyance at receiving old £1 coins in change.
The round £1 coin will no longer be legal tender, from 16th October, as it is fully replaced by the 12-sided version.
But some shoppers have spoken of their frustration at still being given the coins so close to the deadline.
Robert Dalgleish, who received three old coins from Lidl, said: "Why aren't business outlets stopping this?"
Another shopper, Eirlys Groves, said she visited a branch of Tesco where machines gave old out coins as change, but was then told by shop staff that she could not swap them for new ones.
Dianne Lilley said that she had been on holiday in South Devon where she found that several small businesses there were still handing the coins out as change.
Everyone could trade in the coins after 16 October in bank, building societies and post offices, say consumer experts Which?.
However, the organization advised shoppers not to accept the old coins as change and instead to ask for new ones.
Mike Cherry of the Federation of Small Businesses said the changeover period had been "fairly short", suggesting it would be helpful if small firms were allowed a short transition period beyond the deadline to collect the old coins and bank them.
Budget retailer Poundland has said it will continue to accept the old coins until 31 October – allowing shoppers to continue to use the old coins in store until that date, and passing on the job of exchanging the coins to the retailer who would bank them in bulk.
The new £1 coin was introduced by the Royal Mint on 28 March to help crack down on counterfeiting, with one in 30 of the old version estimated to be fake.
About 1.2 billion of the old coins have so far been returned, but an estimated 500 million are still in circulation.
Many businesses' machines have been updated to accept the new coins but some are still unable to take them.
A small minority of the trolleys at Sainsbury's and Tesco convenience and express stores were not accepting the new coin but the companies said they would be able to do so shortly.
Problems have also been reported at other supermarkets.
According to Transport for London, 27 of its machines at London Overground stations do not accept the new coins, although each of those stations has at least one machine that does take them.
An array of anti-counterfeiting details are featured in the new coin, which has been dubbed the "most secure coin in the world", including material inside which can be detected when electronically scanned by coin-counting or payment machines.
Nevertheless, it has faced some problems since its introduction.
A small number of the coins were found to be faulty, elsewhere ticket and vending machines have been unable to accept them.
The Post Office said customers could continue to deposit them into any of their usual high street bank accounts "until further notice".