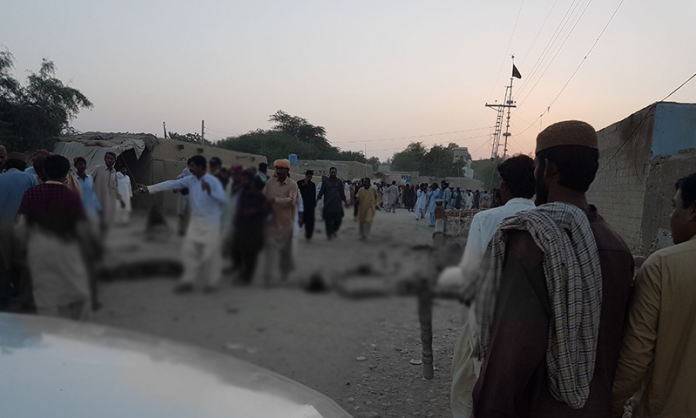 Local officials say a suicide bomber has blown himself up at the entrance of a Sufi shrine in Pakistan, killing at least 24 people and wounding 25 others.
The attack happened on Thursday at the Fateh Pur Shrine compound in Jhal Magsi district in central Balochistan province.
The Fateh Pur shrine is open to all sects of Islam to attend for worship. Worshipers had come to the shrine to mark Muharram, one of the holiest months in the Islamic calendar and for Shiites a time to mourn one of their imams, or saints. Militants opposed to pluralist interpretations of Islam have targeted shrines like this in the past.
"The suicide attacker was intercepted at the shrine's main entrance," said local police official Muhammad Iqbal.
"He attempted to barge inside the main shrine," Iqbal added. "Police guards opened fire, and some steps away from the gate [the attacker] detonated his explosive."
Prime Minister Shahid Khaqan Abassi condemned the attack, saying in a statement that "terrorists have no religion."
"We will not allow them to disturb our peace and values; they will be dealt with the full might of the state," he added.
Dr Rukhsana Magsi, medical superintendent at the DHQ hospital in Jhal Magsi, said that they had received 18 bodies. Of the 25 wounded, 20 suffered serious injuries and were being transported to other hospitals.
"Casualties are still arriving," Magsi said. "The wounds, the serious ones, many people have either lost their hands, some have been hit in their heads with shrapnel.
"The dead bodies are now being handed over to their families."
On March 19th 2005, this shrine, which was built to honour Sufi saint Pir Rakhel Shah, was also attacked, in one of the first such attacks in Pakistan. At least 35 people were killed in that suicide attack.
Since 2007, Pakistan has been battling the Tehreek-e-Taliban Pakistan (TTP) and other armed groups. In the past three years violence has dropped significantly since the launch of a military operation to evict those groups from sanctuaries in the volatile north-western tribal districts.
52 people were killed and over 100 injured in a suicide attack at a Baluchistan Sufi shrine in November last year, in an attack claimed by ISIS, though the group is known for claiming attacks even if they are involved more in influence than direct action. In February, ISIS attacked a Sufi shrine in Pakistan's southern Sindh province, killing 83 people.