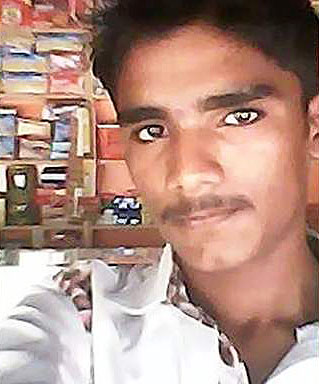 Sharoon Masih was beaten to death by his classmates in Pakistan after apparently having drank from the same glass as a Muslim.
17-year-old Sharoon had only been at MC Model Boys Government School Burewala in Punjab for three days before the incident.
Reportedly, the class teacher, Nazir Mol, was present at the time said he did not notice the incident as he was reading a newspaper.
A student named Muhammad Ahmed Rana has been arrested. He has apparently claimed that he lashed out at Masih after he broke the screen on his phone.
Rana has refused to name any of the others who were involved in the attack.
Repeated blows to the head and body caused Sharoon's death, according to the autopsy.
His mother, Razia Bibi, described the death as a "huge" loss.
"No proper investigation is being done," she said.
"We had great intimacy and were looking to him to support us and his sibling as we grow old."
Sharoon was sent to MC Model Boys Government School Burewala after performing well academically at his school in his local village.
His family saved for years to afford the attendance fee for the school and were not able to pay for his school uniform.
Masih reportedly attended the first day in his own clothes, he was slapped twice in the face and made to stand outside all day as punishment for doing so.
Students insulted him throughout his time and apparently attempted to force him into converting to Islam.
Wilson Chowdhry, the chairman of the British Pakistani Christian Association, said, "[This] serves only to remind us that hatred towards religious minorities is bred into the majority population at a young age, through cultural norms and a biased national curriculum."
Saleem Tahir, headteacher at the school, was suspended but is still attending the institution.