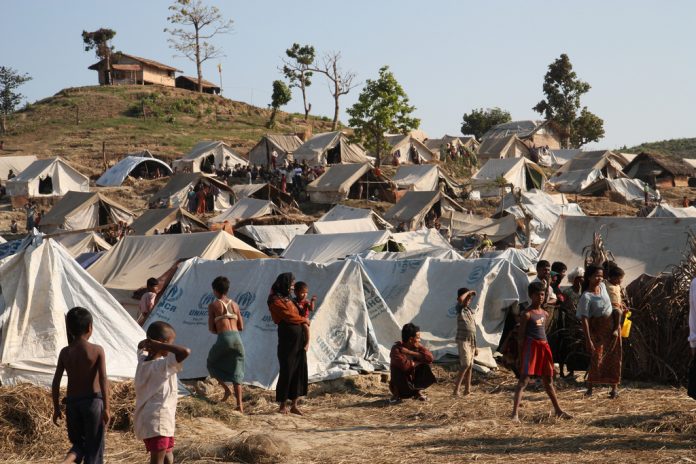 MP's have called for the government to help end the violence in Myanmar which some say amounted to the "ethnic cleansing" of Rohingya Muslims.
It is thought that, since 25th August, more than 123,000 Rohingya people have fled the Rakhine state of Myanmar due to violence.
Liz McInnes of Labour said aid to the army of Myanmar should be suspended.
Minister of State at the Foreign Office Mark Field said that the UK "strongly urged the security forces in Rakhine to show restraint" when he spoke in the House of Commons.
Reportedly at least 400 people have been killed since the conflict began and Mr Field said that the UK has called for humanitarian aid "to reach those in need as soon as possible".
The conflict began following clashes between Rohingya insurgents and the country military and security forces.
A counter-offensive by the country's forces has forced thousands from their villages, mostly to Bangladesh, with many internally displaced.
Ms McInnes said that, as a result of "so-called collective punishment" in response to the police post attack by insurgents, "more than 100,000 innocent Rohingya men, women and children have been forced to flee their homes in a campaign which UN officials say may amount to ethnic cleansing".
The surge of refugees into Bangladesh has also raised concerns about the already crowded refugee camps. 400,000 Rohingya people were reportedly staying in the camps before this latest crisis.
Labour's MP Yasmin Qureshi raised the question in the House.
"In the last number of years, there's been a systematic rape and murder and burning and beheading of people of the Rohingya community," she said.
She said that it was wrong to suggest that police attacks would justify "what the Burmese government is doing to these people".
Turning to the minister, she said: "Will you actually condemn this campaign of ethnic cleansing of the Rohingya Muslims?
"This is one of the worst examples of violence in decades, yet the international community is effectively remaining silent as we watch another Srebrenica and Rwanda unfold before our eyes. This situation requires urgent intervention."
In response, Mr Field said the UK had been "monitoring the situation for some time" and through "diplomatic sources had made sure our concerns are heartfelt".
He said that the UK is the largest single bilateral donor in Bangladesh supporting displaced Rohingya refugees.
British intervention had led to the UN Security Council discussing the issue this week, Mr Field said, adding that the UK was one of the largest humanitarian donors to Burma and the Rakhine state.
Later on Twitter, Qureshi said, "Utterly flabbergasted by Minister's appalling response to my Urgent Question. No condemnation of persecution. No real plan to help #Rohingya"