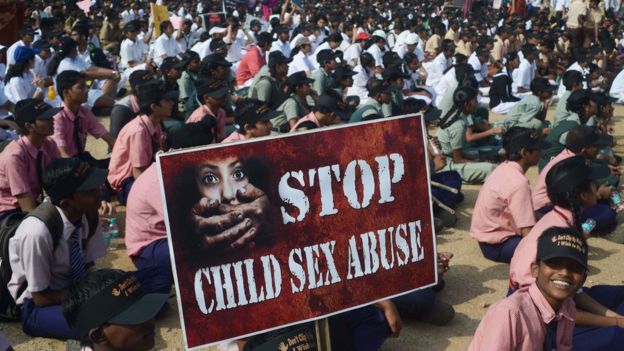 The young girl, who was denied an abortion by the Indian Supreme Court, has given birth to a baby girl today.
The girl is unaware that she has given birth and was told the bulge in her stomach over the last few months was because of a large stone in her stomach.
The baby and her mother are both doing well according to hospital staff. The baby was delivered by Caesarean section in the city of Chandigarh this morning at 09:22 local time (03:52 GMT) and weighed 2.5kg (5.5lb), the girl was told her surgery was to remove the stone.
"She gave birth through C-section today. Both the girl and her baby are doing fine," said Doctor Dasari Harish.
"The surgery was uneventful. There were no complications whatsoever. The baby weighed 2.2 kilos (4.8 pounds) and is in the neonatal ICU for now."
The young girl alleges that her uncle had raped her several times over the last seven months, he has been arrested.
Reportedly the girl had complained of stomach pains to her parents and was taken to hospital where, in mid-July, it was discovered she was pregnant.
Initially, a local Chandigarh court denied her plea for an abortion on the grounds that the girl was too far into her pregnancy following the review of a panel of doctors who said that the termination would have been "too risky".  The matter was taken to the Supreme Court who also denied then abortion on the same grounds on July 28th.
For the next few days at least, the baby has been placed into the neo-natal intensive care unit of the hospital as she was born prematurely at 35 weeks. Her mother will remain in hospital for a week to 10 days.
The parents of the young girl have refused to have anything to do with the baby, reportedly not even looking at the newborn. She will be taken care of by child welfare committee until she is put up for adoption.
Under Indian law, pregnancies may not be terminated after 20 weeks unless exceptions are made in cases where the doctors certify that the life of the mother is in danger.
In recent times there have been numerous campaigns and petitions urging the courts to allow abortions past this stage as many of the victims, such as in this case, are unaware as to their condition until the latter stages of their pregnancies.
The Indian Government and Unicef have released figures on sexual abuse crimes in the country painting a grim picture:
20,000 cases of rape or sexual assaults on minors reported in 2015
A child under 16 is raped every 155 minutes, a child under 10 every 13 hours
240 million women living in India were married before they turned 18
50% of abusers are known to the child or are "persons in trust and care-givers"