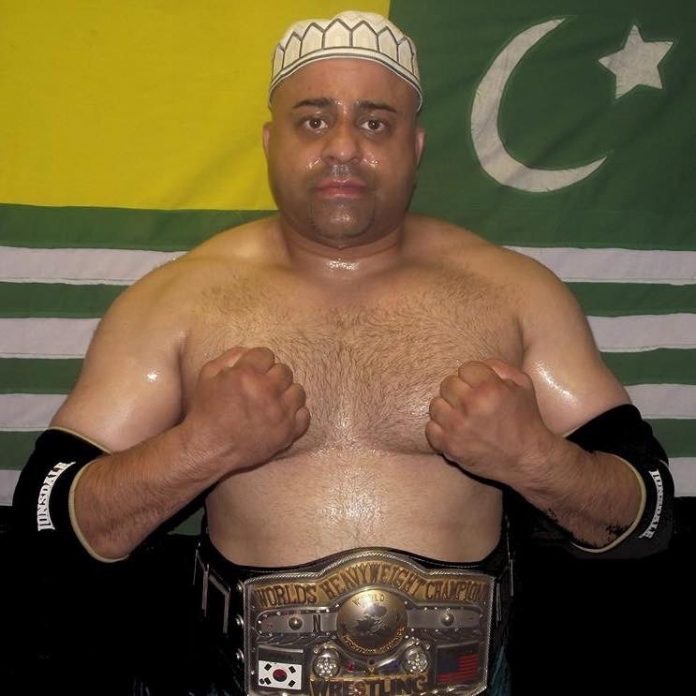 One of the biggest names in British wrestling is that of Shak Khan, the Kashmir Kid, who was born in Pakistan but moulded into a two decade long professional wrestler thanks to the wrestling scene in Blackpool.
We interviewed Shak Khan, whose real name is Raja Sony Palwan, on the story of how he got into wrestling and his huge international fight with Dave Duran next April.
How did you first get into wrestling?
I came from Pakistan, a village called Sochani, near Dadyal. I left when I was 12 and moved to Blackpool by the seaside. On a Sunday I used to go watch the wrestling at the Tower, where they held fortnightly shows featuring British wrestling stars.
One of them was Dave Duran, a local wrestler who was also wrestling overseas. I was just infatuated in this sport, where there were hundreds of people cheering you on and you get treated like a rock star and fly off to other counties and get paid for it.
One day I was leaving school and I saw a poster of Dave Duran adverting his next bout, then went back the next day and met him. He was a massive mountain of a man. He looked like a very angry Burt Reynolds. I told him "I want to be like you." He looked me up and down said I'm not ready for it. I had followed martial arts all my life and was always getting into fights so I thought I was ready for it. I trained judo for two years and thought 'if I can do judo, I can definitely do wrestling.'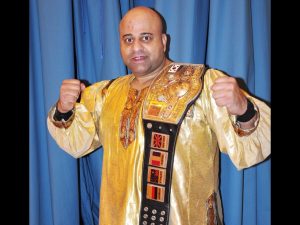 I went back to the ring when I was sixteen. Hundreds were at this venue. I wanted to show the promoter and Dave how tough I was. I'd been to judo, I'd taken knocks and hits. Dave and I got in the ring and I cockily thought "this won't take long." And I was right, it didn't take long. He absolutely murdered me. He picked me up and threw me out the ring. The entire crowd was laughing and the show was over.
I thought it looked so easy on TV, I thought it was all acting, but I was so bruised and limping and couldn't walk. Dave shouted at me saying: "it's people like you that watch wrestling on TV and think it's easy. This is our jobs and lives, we've got wives and kids that we do this for." But he also told me "if you want to get better, then come back."
I went crying home but for the next few weeks I'd be in the ring with Dave Duran and all he did was murder me. After a month of training, I went back and got in the ring with him. When the bell went, I went for him and picked him up over my shoulder and threw him out the ring. The crowd just erupted. After that bout, where they saw my massive improvement, I was invited onto Dave's team. He told me, "We have families and mortgages. We have to win every fight, we need a good team that know how to fight otherwise we're paying out our own pocket."
I started training with them and learned how to take punches and how to take peoples' legs. For the next season, I wore a gold jacket, a turban as a gimmick, and wrestling boots. I was named the Kashmir Kid. I did ten full seasons at the Pleasure beach and have never lost a fight there.
You've been a professional wrestler for over twenty years, what's been your proudest achievement yet?
Winning my world title belt. I've won a few belts. I wrestled all over the UK and people were interested because I was different, I was Pakistani and wore a turban and spoke the language. My first international tour was in 1998, in Dubai. I was 21 or 22, and I wrestled there in front of 20,000 people and won my first belt.
What are some things people might not know about wresting?
Because we watch sports in the comfort of our homes, it's easy to say "go on, that didn't hurt," but it's not until you get into a ring and have to get physical that you realise how different it is. In the ring, there are iron steel girders beneath you, the corner post has metal hooks. People have died in wrestling rings from injuries so anyone that says it's easy, I would invite them into the ring anytime and see if they last a round.
You now have your own Wrestling school. What prompted you to do this?
When I started wrestling, I didn't have anywhere to learn unless the ring was put up on the weekend. But there was nowhere to properly learn. I opened my wrestling school, the E.C.W. Wrestling Gym, in early 2017. It has a full size ring and a massive area where people learn how to grapple. The response has been great and I've already got a lot of students involved. If you really want to do something in life, you can achieve it if you work very hard. With lots of dedication and determination you'll get there. That's my outlook. If you want it, get it. There's no such thing as no.
You'll soon be facing off against Dave Duran. How are you preparing for that?
We've never wrestled each other in a match apart from when he destroyed me when I was 16. It's a match that's never been seen before and we're doing it for charity.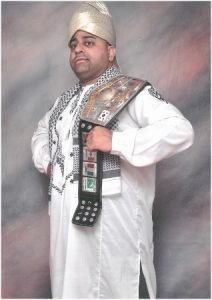 We're going to Azad, Kashmir, in October for press conferences and to see what their stadium is like. Then we go back in April next year for the actual fight at Dadyal Stadium. We're expecting 20,000 people for our student vs master fight. Dave is definitely the toughest man on the British circuit today and he has this reputation of being a real tough nut, a hard man to wrestle. To have a real fight with him is devastating, he can break your arms and legs no problem. He's about 18 stone and much stronger than me.  It's going to be the biggest fight in Azad's history of sport.
Bu the fight is actually for charity. Because wrestling has been good to me and given me a good lifestyle, I want to give something back to my community. When I go to Pakistan and wrestle Dave in April, I'm going to be doing a collection there. Whatever it is, 1 rupee, 50 rupees, every person will make a donation at my fight. Every penny will go to the Insaniah Foundation for the homeless, poor and orphaned children of Pakistan.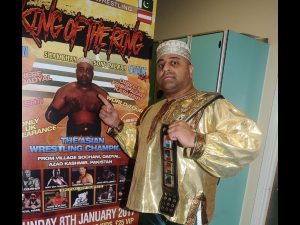 For any businesses with links to Dadyal or Azad, Kashmir, that would like to sponsor Shak Khan's prized April fight, please contact shakkhan2008@hotmail.com.
Additionally, for anyone learning to wrestle, with accommodation provided, contact shakkhan2008@hotmail.com.