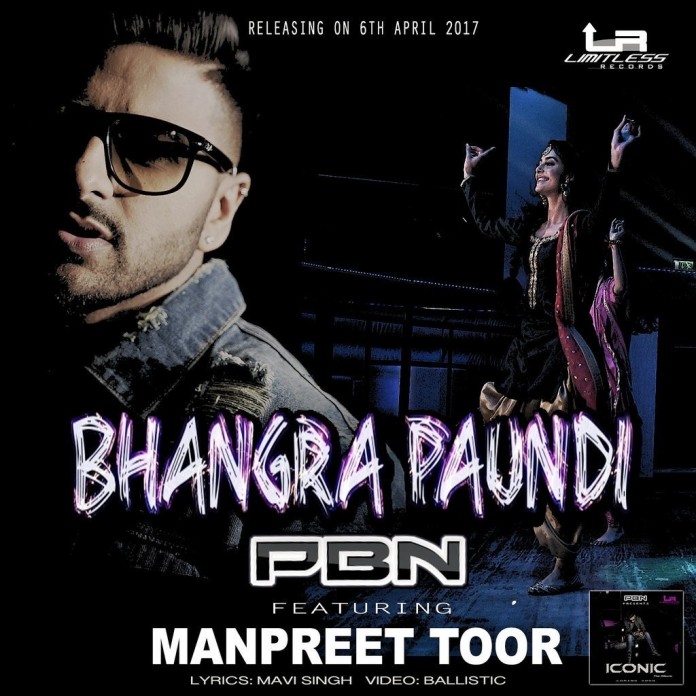 Multi-award winning artist PBN who has been responsible for some of the biggest Bhangra anthems to come from UK shores has started his campaign to take over 2017. His forthcoming album – Iconic is set to release later this year, with his first single 'Bhangra Paundi' ready to take dance floors by storm on 6th April.
The new single releasing on Limitless Records is set to become the new ladies anthem. Aptly titled 'Bhangra Paundi', PBN aims to capture the new movement of females who in recent times have embraced traditional folk Bhangra dance and made it their own.
"This song is dedicated to all the females who are now leading the Bhangra dance scene proving that #GirlsCanDoBhangra, be it on the dancefloor at parties or competing in Bhangra competitions. I thought it was only right for me to hit the studio and create something that lyrically and musically captures this movement and has everybody singing and dancing right through 2017." PBN
The new single also features UK Garage legend, Sharky P who was responsible for the Official UK Number 1 hit record 'Do you really like it'. In his true signature style, Sharky laces 'Bhangra Paundi' with a counter singalong hook that can only be described as infectiously catchy.
What's even more special about this single is that PBN has collaborated with YouTube dance sensation, Manpreet Toor. The popular youtuber has captured a worldwide audience with her unique dance style and mesmerising choreography. Manpreet features as the lead dancer and model in a powerful performance based music video for the new single.
"I've been dancing to PBN's music for years. It was a pleasure and dream come true to have collaborated on Bhangra Paundi. Can't wait to show the magic we created together in this video." Manpreet Toor
Get ready to be wowed with an explosive song and visual that will mark the return of the Hitmaker for 2017!
Official Release Date: 6th April 2017
For all media and press enquiries please contact Gurpreet Bachu on:
gurpreet@pbnmusic.co.uk / Twitter@GurpreetBachu