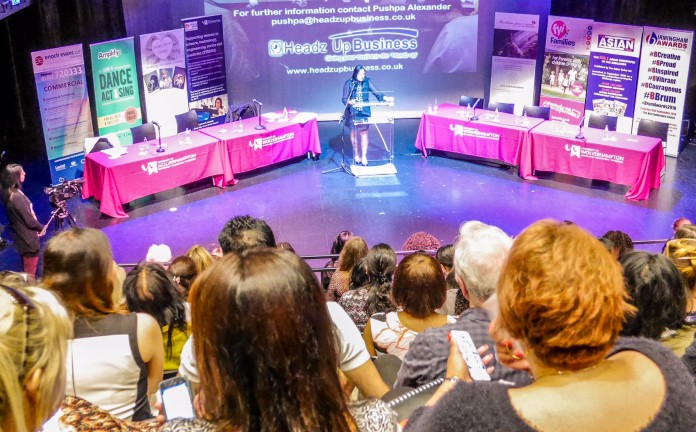 Self – Employed Women   Increasing Year on Year. More Women In the Work Place than 50 years ago. What are the issues affecting women who want to work!
'Women In Business, Discussion & Debate' Q & A Panel hosted by Headz up Business at The Business Growth Show, 30th March, Edgbaston Cricket Ground.
World War 11 was largely responsible for the shift of women's roles from within the home as a   wife & mother, to taking up jobs and roles traditionally done by men. After the war, despite the lack of encouragement, women continued to remain in the work place and fought equality to their male counterparts. Research dated Sept 2016 reported, 79.4% of men and 69.8% of women aged 16 to 64 were in work. (Source: www.ons.gov.uk UK Labour Market: Sept 2016). The number of self-employed women has also increased faster than men and since 2009 women have accounted for over half of the overall growth in self-employment.
As you can see from the statistics, the landscape for many women has been changing exponentially and can be attributed to various social, economic factors. The access to education for women has provided aspirations for something more than just a life of home-maker and given desires for careers equalling that with men. For some women work has represented economic necessity and with the breakdown of the importance of marriage, there has been a growing army of single mothers who have little choice but to work.   A growing proportion of married women have also discovered that the only way they can preserve their households' living standards is to join their husbands in the labour market. Technology has revolutionised the way we work, offering greater opportunities for self-employed and making it easier for them to work from home. And we are seeing more and more skilled, talented women exploring part-time, self-employment, from the corporate sector, particularly starting a family, finding the challenges of getting back into work and needing work to fit around their family needs.
With this significant shift of more women in the workplace, there has also been a set of challenges, barriers and traditional attitudes to work for women to manoeuvre around. Women going out to work, are still seen as the primary carer for children within the home, with many juggling jobs with cooking, shopping and house hold chores. And within the workplace in some industries, professions the culture of working 9 to 5, long hours has created headaches, stress, worrying over care in holidays, and times of illness. It's not surprising to then see the increase of   ladies attending dedicated 'Women in Business' events hosted by Headz Up Business. Despite the challenges over the last 50 years, we have business-women, professionals who are thriving and making a real contribution to the UK's economy. Ladies attending are eager to learn how these business-women fit everything in, manage their time, responsibilities, handling the pressures of childcare and maintaining good relationships with partners.
On 30th March 2017, Headz Up Business is delighted to be delivering at The Business Growth Show taking place at Edgbaston Cricket Ground, Birmingham a special 'Women In Business, Discussion & Debate, Q & A Panel' with ten leading business-women, ranging from wide backgrounds and industries. The business women on the Q & A panel, will be offering support to attendees by talking about their own journeys, experiences in business, providing inspiration and offering the opportunity to provide advice to attendees in their business journey and careers. The session provides invaluable networking opportunities for collaboration, partnership work allowing attendees to   meet, connect and network not only with the panel but also the hundreds of ladies that have registered to attend.
Mark Linton, Director of The Business Growth Show: "We are excited to have on board at this year's show, Pushpa Alexander, founder of 'Headz Up Business' to host, facilitate the 'Women In Business, Discussion & Debate' session championing, acknowledging the achievements of Women to the UK's economy, providing access, opportunity to discuss the real issues, challenges affecting women and work in today's evolving business landscape." Here is the fantastic line-up of the business-women on the Q & A panel, covering a wide range of topics which will resonate and engage with many ladies attending the session.
Tracy Pound, Founder of IT company Maximity, voted one of the top 50 women in technology is on a mission to encourage more girls, women to look at a career in Tech as the lack of gender diversity is a very real problem that needs addressing.
Rachel Maclean, Co-founder of Pakt Publishing currently the UK's leading technology publisher, has been involved in a new venture 'JoinAir,' around HR, to help small businesses & entrepreneurs build better workplaces and happier employees.
Merisha Stevenson, BBC broadcaster, Co-Founder of Adroit, Midlands Director for Women Speakers Association, Producer and Presenter for the Financial Style Radio Show. Merisha is committed to using her experience to champion women in leadership and governance and to assist wealth creation management and develop strategies for financial freedom.
Sarah Moore, Owner of Flexible Minds, a recruitment agency specialising in part-time and flexible opportunities for professionals. Sarah graduated from the University of Birmingham with a BSC in Psychology, and for her dissertation she researched working mothers and the common place issue of mothers needing occupationally downgrade (needing to take a reduction in responsibility, status or salary) if wanting to work part- time and impact of this on their wellbeing.
Helene Panzarino, Author of 'Business Funding for Dummies'. Originally in commercial banking with one of the largest global banks, Helene is a highly experienced investment readiness consultant.
Natalie Brown, as the creator of 'Time With Natalie,' an online lifestyle channel aimed at motivating & inspiring women, Natalie has interviewed self-made millionaires, celebrities with most prestigious guests being Stedman Graham (partner of Oprah Winfrey), Sir Richard Branson, Les Brown and more.
Anita Chumber, Partner/Co Editor of The Asian Today. Co-Founder of Midland Food Drink Hospitality Awards and The Birmingham Awards.
Charlene Wall, Director of Gym Divas, the first 'ladies only' gym in Dudley and proud mom to 2 daughters.
Beverley Nielsen, is the female Liberal Democrat candidate running for the first West Midlands Metro Mayor. For the last 10 yrs she has been working at Birmingham City University as a Director, prior to this has had many high profile roles within business: She was a director of FTSE – 250 business AGA Range Master PLc, Director at CBI West Midlands & CEO of England Tourist Board.
Anyone interested in finding more about the event, the business women on the panel or wishing to register a FREE ticket to attend Thurs 30th March, please follow the following Eventbrite Link: https://www.eventbrite.co.uk/e/women-in-business-discussion-debate-hosted-headz-up-business-tickets-31119671776?ref=estw