Hadiqa Kiani, one of the most popular singers in Pakistan, has been embroiled in a fake news scandal that attested that the star had been arrested at London Heathrow for attempting to smuggling in 2kg of cocaine.
The story goes that the 42-year-old singer, song-writer and philanthropist was stopped by Customs and Border Protection police who searched her suitcases upon suspicion, and came across two plastic coffee bags containing cocaine, estimated to be worth £80,000.
She was then apparently taken in for questioning in a private search room and arrested, to be later prosecuted by the London District Attorney for drug smuggling.
The Director of UK Border Agency London Field Operations, Robert E. Perez, said or never said, "This seizure is another examples of UK Border Agency being ever vigilant in protecting the United Kingdom from the distribution of illicit drugs."
The Boohe Bariyan singer immediately denounced the story, claiming she was in Lahore at the time. She tweeted: 'Disgusted with @DailyTimes_DT for spreading such FAKE NEWS. I have been in Lahore, today is my nephew's birthday. SHOCKED.'
As proof, she posted a picture of her with her mother and son, captioning it, 'Photo taken TODAY in Lahore with my mother and son! Cannot believe how this FAKE London news has been spread.'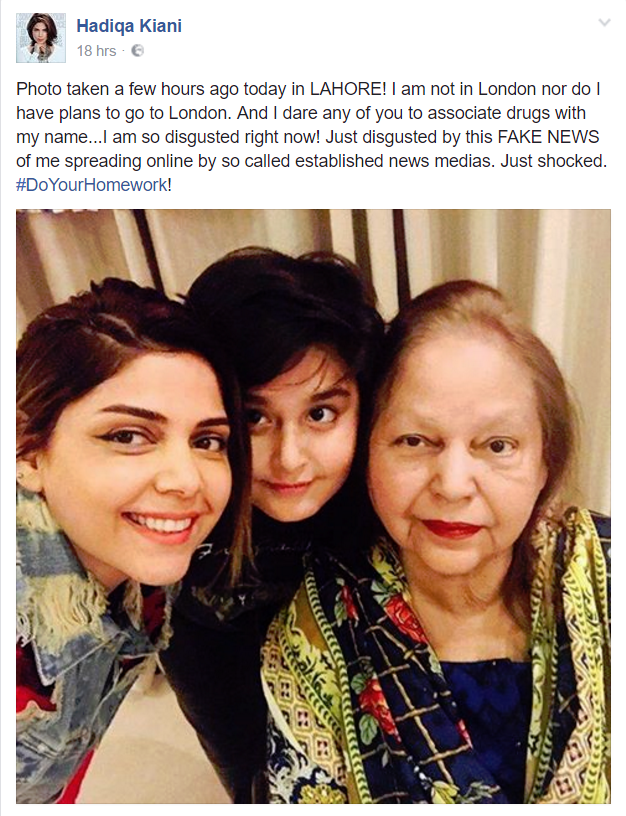 The veteran artist told a reporter, "When I fist heard the news, I laughed it off. But after a while I started receiving serious phone calls from senior journalists and I was shocked!
Today was my nephew's birthday, so I was here, spending time with my family. It's a disgusting news. What I fail to understand is why a news like this not thoroughly verified?"