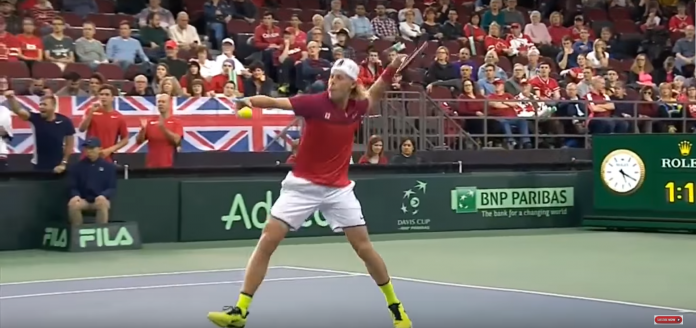 Canada's Denis Shapovalov has said he is "incredibly ashamed and embarrassed" after his shocking outburst on the court.  During the Great Britain Davis Cup, Shapovalov faced off against Kyle Edmund and had just dropped serve when he furiously struck the ball off the court straight into the umpire's eye.
Immediately upon striking him, the crowd went silent and Shapovalov walked over to see if the umpire, Arnaud Gabas, was okay. Within seconds the umpire's eye had closed up and he announced that 17-year-old Shapovalov had been defaulted.
The teenager said, "Luckily he was OK but obviously it's unacceptable behaviour from me. I just feel awful for letting my team down, for letting my country down, for acting in a way that I would never want to act.
"I can promise that's the last time I will do anything like that. I'm going to learn from this and try to move past it."
Garbas was taken to Ottawa General Hospital for a precautionary evaluation due to bruising and swelling. Shapovalov has since been fined $7000.