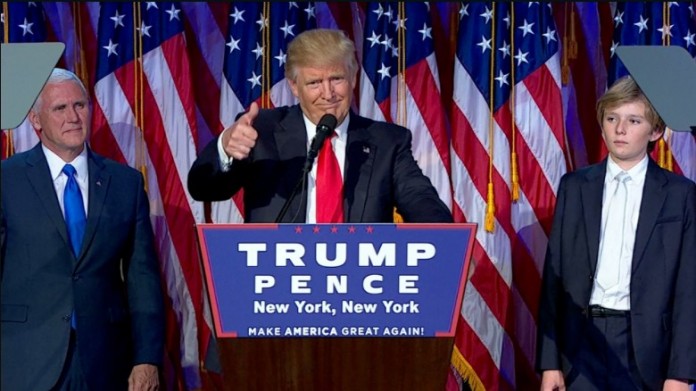 After a cataclysmic campaign that saw FBI investigations, sexual assault claims, smears and vitriol galore and a media frenzy focused on two insanely polarising characters, America has finally decided on its new 45th President: Donald Trump.
The world watched on tenterhooks as state by state revealed its votes, with many around the world watching live regardless of time zones. Then the unbelievable news broke, political outcast Trump really had won the presidency. The billionaire businessman is set to take the Presidency from current President Obama in January 2017, meaning Obama has just two months of clean up before handing over power.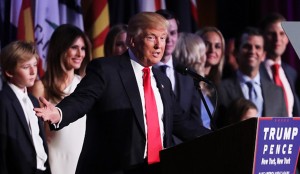 Trump won with 289 votes against Hillary's 218 and has a senate majority with 51 Republicanseats. Despite a smart, clean and thoroughly un-Trump like acceptance speech where he even congratulated Clinton, the markets shook upon news of the presidency with the US dollar tanking, UK and European markets falling and the Asian markets taking a hit. Americans themselves seem to be quaking in their boots, evidenced by the fact that the Canadian immigration website crashed in the wake of the election. They might be across the pond, but it's no exaggeration that everything that occurs in America has a knock on effect on the rest of the globe- perhaps most especially on the UK.
The UK and the US have long enjoyed a long and amicable friendship. We speak the same language, we share the same faces, and our policies on everything from economics to climate change to wars in the Middle East are more often than not closely aligned. Though this might not be the case for long. Trump has denied climate change, attributing it to a 'Chinese hoax' and is adamant about anti-Islamic immigration, something Theresa May said was "divisive, unhelpful and wrong."
So how will Trump and Theresa fair as leaders of the anglo-west? One can't forget how then US and UK leaders George W Bush and Tony Blair stormed into Iraq together searching for those famed weapons of mass destruction. But what occurred on our side of the sea was mass fallout as millions accused Blair of ponying up to Bush for a wild goose chase. Now Blair is facing the brunt of the consequences, with The Chilcot inquiry ringing decision makers- Blair included- left and right.
Next came US golden boy Barack Obama and ex-Prime Minister David Cameron. Whilst Obama was introduced Obamac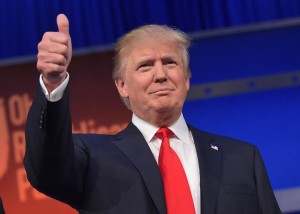 are, found and killed Osama Bin Laden and solidified his legacy as one of the most popular US presidents in recent years, Cameron unfortunately took another path, slashing budgets, opening up the gateway for Brexit and introducing a divide in US-UK relations. Obama notoriously said that Cameron had been "distracted by a range of other things" which led to the Libya crisis.
Now America is on stage yet again as Donald Trump, hotel business man, Miss World obsessive, potential builder of walls, takes centre stage as the world's most powerful man. But what does this tell us about the state of politics, in the UK as well?
It's hard to ignore the parallels between the US election and Brexit. Nicola Sturgeon recently revealed how when David Cameron first proposed Brexit and she warned him that it might happen, he told her "don't be silly." No one could have predicted how Brexit went, not even the Brexit campaigners and voters themselves (many of whom immediately expressed regret and it was more of a protest vote than anything.) But the same angry, disenfranchised voters who voted for Brexit are much like those who voted for Donald. They felt ignored, sidelined, that things would never change without a shake up. Remain promised no shake ups. Hillary promised no shake ups. Trump himself referred to himself as 'Mr Brexit'- he knows very well he is a protest vote against political stagnation. It's not necessarily that they voted for Brexit and Trump, but more so that they voted against a continuum of the current state of political affairs. And seeing as the majority of both US and UK peoples are misinformed of politics, they felt they had no other way to seize that chance.
But what about the minorities? After Brexit, there was an explosion of racism and anti-Islamic sentiment. Eerily mirroring it, there has been news of increasingly random and sporadic attacks on muslims in America. Trump famously promised that he would stop any immigration of Muslim peoples into America, as well as force the Mexicans to build a wall to keep their own people out, as well as refer to women as pigs and admitting to using his fame to get away with sexual harassment.
Understandably, 58% of white Americans voted for Trump. A shocking 8% of black people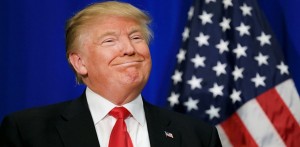 voted for Trump, with 88% voting Clinton. 65% of Asians voted for Clinton and 29%, a surprisingly high figure, voted for Trump. So what does the next four years have in store for American minorities? In his winning speech, Trump claimed he will "bind the wounds of division"- many of which he has had a hand in inflicting.
Despite conflicting on numerous areas, including the Middle East, handling of minorities and Russia, PM Theresa May has congratulated Trump on winning and said "We are, and will remain, strong and close partners on trade, security and defence.
"I look forward to working with President-elect Donald Trump, building on these ties to ensure the security and prosperity of our nations in the years ahead."