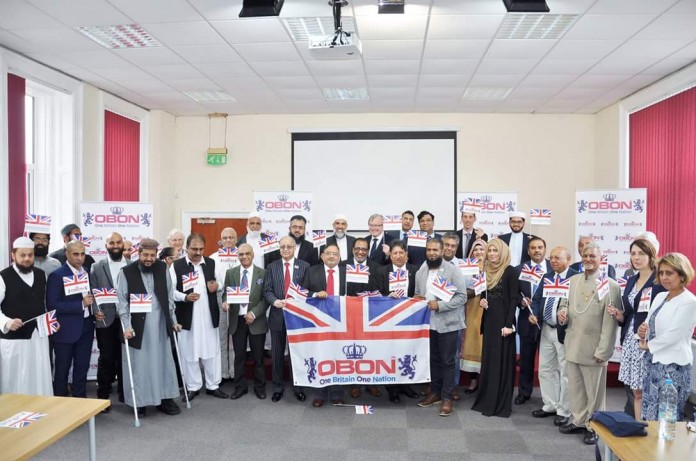 OBON's 'Count Me In' campaign, wholly privately funded by OBON's passionate CEO, Kash Singh, aims to create a symbolic display of national unity and cohesion that coincides with Her Majesty the Queen's official 90th birthday celebrations and celebrates her role as the iconic head of a truly united nation.
The British Muslim community will be visibly and vocally throwing its weight behind this call when the country's most influential imams unite, in unprecedented fashion, to add their voice to the call for people of all religions, backgrounds, races and age to demonstrate their adherence to British values, by celebrating the Queen's birthday together.
OBON has asked councils, communities, businesses and schools to come together, at 11am on Friday June 10, to sing the national anthem, fly the Union Jack and say three cheers to Her Majesty.  Its aim is to shape a nation that today's children can be proud of in years to come, by creating a response to changing demographics that is based upon inclusion, rather than exclusion, and understanding rather than fear and hatred.
The Muslim leaders have swiftly responded to this call, by asking all British mosques to include a prayer to Her Majesty the Queen in their Jummah prayers on Friday June 10.  Five hundred mosques across the country have already signed up to do this ahead of Thursday's event and more are set to follow.
Additionally, the imams are urging British Muslims to invite friends and colleagues of other faiths to their homes, to mark the start of the Ramadan fast together and foster understanding of each other's beliefs and viewpoints.
OBON's CEO, Kash Singh, says:
 "Our 'Count Me In' campaign is about ordinary citizens in Britain demonstrating their belief in British values and recognising that, by standing together in solidarity, we can make our society one forged by the majority, rather than the minority, voice.

"We are delighted to have such eminent Muslim scholars and imams taking up our Pledge and encouraging Britain's population of three million Muslims to join in Her Majesty the Queen's celebrations alongside those of other faiths and backgrounds.
"This groundbreaking level of support from the British Muslim community adds to that already elicited in cities like Bradford, Manchester, Coventry and Rugby and in schools across Yorkshire and is a major milestone for OBON and for Britain.  We now need other groups, cities and communities to come forward, say 'Count Me In' and stand together, to show our mutual pride in our country and send a message to the world that Great Britain is one wholly United Kingdom that cannot be divided."
Trustee and Spokesperson of the British Muslim Forum, Maulana Dr Shahid Raza Naeemi OBE, stated: "There is no doubt that citizens of our country from all backgrounds feel very much at home in Britain and proud of being British. Today, more than ever before, there is a need to collectively demonstrate to ourselves, to each other and to the world that we are indeed all together, standing in solidarity and with pride, as One Britain One Nation.
"The British Muslim community in the United Kingdom is an integral part of the wider British society and stands shoulder to shoulder with all other British communities in this spirit of national unity. In honouring the services and contributions of Her Majesty The Queen, as well as her longstanding commitment to the national cause, members of the British Muslim community, mosques and Imams, will come together with the rest of the country on Friday 10th June 2016 to echo and resonate the message of One Britain One Nation. The British Muslim Forum supports this call and encourages its members and all communities in the UK to join the 'Count Me In' campaign and celebrate the essence of national unity and pride on June 10th."
The OBON and British Muslim community event will take place at The City Hassanat College, in Leigh Road, Birmingham at 1pm.  It will feature speeches from the Chair of the West Midlands Lieutenancy Birmingham Ambassadors Group, Mr Simon Topman MBE and some truly influential Muslim speakers.
These include Dr Musharraf Hussain OBE, Chair of the Christian Muslim Forum and Director of the Karimia Institute (Nottingham), Dr Qari Asim (MBE), Chief Imam at Leeds Makkah Masjid Mosque and senior associate at DLA Piper UK LLP and Dr Waqar Azmi OBE, the Government's former Chief Diversity Adviser and someone cited in the list of the 500 most influential Muslims in the world.  He is also Chairman of Remembering Srebrenica.
Also speaking will be Allama Ghulam Rabbani Afghani, a versatile scholar and talented speaker, Hafiz Fazal Ahmed Qadri, the Imam of Derby's Jamia mosque, and Mufti Yar Muhammed Qadri.
Dr Musharaff Hussain OBE says: "During the 64 years of Her Majesty the Queen's illustrious reign, she has inspired countless millions of people all over the world. She is the longest reigning monarch, the head of Commonwealth, comprising nearly 1/5 of humanity, and the defender of faiths. That is why we Muslims also want to express our respect and tribute to this incredibly amazing lady, who is truly dedicated to serving our nation. Joining in with OBON's initiative will enable us to do that and we thank OBON's CEO, Kash Singh, for his tireless work in supporting and encouraging us with this initiative."
Qari Muhammed Asim MBE added ""One Britain One Nation is a fantastic and timely initiative that aims to bring together all communities to celebrate their shared British identity. OBON's vision to create a diverse yet strong, fair and proud nation accords with the teachings of Islam.  British Muslims are urged to fully participate in this initiative and find ways of marking 10th June to remember Her Majesty The Queen's incredible passion and relentless commitment to serving the citizens of this country and the Commonwealth. "
OBON is receiving responses to its call to action on a daily basis and wishes to see a wave of red, white and blue spreading across Britain on June 10.  It has also created a list of ways in which communities of all kinds can get involved and come together to create a shared sense of belonging.  Details can be found at www.onebritainonenation.com whilst those wishing to create an event can contact Kash Singh on info@onebritainonenation.com