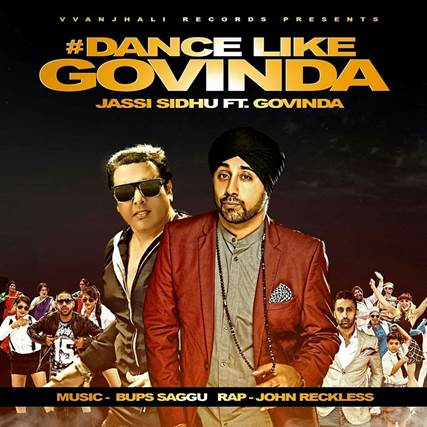 Ambassador of UK Bhangra music, Jassi Sidhu is back after almost 2 years with the release of his new single 'Dance Like Govinda' on May 9th on Vvanjhali Records. The singer, who has made such an impact in India with his unique British Punjabi hybrid style, has been touring extensively worldwide in the last few year's, performing hits from a career that has spanned the last 2 decades.
Whilst musically Jassi has been fairly quiet on the music front in recent times, he has still managed to release huge collaborations such as Singh FT the hitmaker PBN, Hipshaker Ft Youtube sensation iiSuperwomanii and Jaan Mangdi FT the one and only Yo Yo Honey Singh.
Jassi Sidhu known for his distinct voice and mannerisms is now set to pay homage to the Bollywood dance king 'Govinda' with his brand new single 'Dance Like Govinda'. The song see's Jassi re-united with 2 of his closest friends in the industry with one of the UK's hottest producer's Bups Saggu dropping the huge beat and world renowned actor come director Ameet Chana providing the perfect visual. It also sees the Bollywood legend himself grace the video with his untouchable star quality. The project breaks new ground with Govinda making his 1st ever appearance in a Punjabi music video.
The single is special to Jassi who, although not an avid Bollywood fan, was left star struck working alongside somebody he grew up watching on television. "Govinda is an icon, who doesn't know him? To have the chance to bring a bona fide legend of Bollywood to Punjabi music is such an honour. He's such a laid back guy shooting the video with him was brilliant fun and him giving his seal of approval to the song is such blessing. This track itself is something very cool for the Punjabi music industry and I'm so proud to be able to have put it together".
Although the style and sound of the project is not something his fans would associate with him, Dance like Govinda shows a whole new side and sound to Jassi Sidhu which will appeal to not only his world-wide bhangra fan-base but a whole new section of Bollywood fans too. There's also a desi remix by hotshot UK producer GV giving Jassi's desi fans a taste of what they love so much.
The new single looks set to start a craze worldwide as people everywhere attempt to 'Dance Like Govinda' on May 9th.