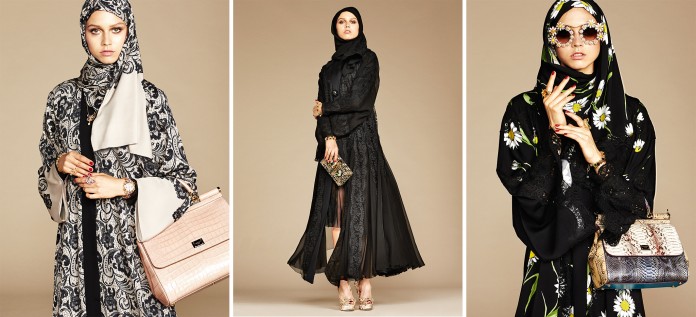 Dolce & Gabanna released their long-awaited range of designer Abayas and hijaabs .
Dolce and Gabanna have built their illustrious brand upon the form-fitting gowns, worn by A-list actresses and fashionistas world wide. Now the esteemed fashion-house has branched out into an entirely new range of clothing, with their new abaya and hijaab range.
The Italian brand launched their enticing new range of delicately designed flowing floor-length gowns this month, in a new wave of modest clothing, targeted at Muslim consumers.
With their staple prints and elegant silhouettes, D&G have added a dramatic femininity to what was generally considered a demure outfit choice to the masses.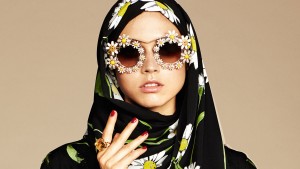 The range was revealed via the Arabian website Style.com, who said the collection "celebrates the inimitable dolce vita that is distinct to us in the Arab world."
Despite being modest in nature, the range is still distinctive to D&G with a touch of the daisies, lemons, and playful polka dots that are synonymous with the brand's Spring 2016 collection.
The designer abayas and hijabs are avaliable in sheer georgette and satin weave charmeuse fabrics, with D&G's signature lace detailing a prominent feature. Neutral colours paired with bold black lace echoes the brands penchant for a striking yet subtle effect.
The exclusive collection has received wide-spread praise by fashion lovers everywhere.
Melissa Marsella writes on Instagram: "It's so amazing to see you create this. There are a lot of lovely ladies that will look and feel absolutely incredible because of you" and Philistine Ayad took to twitter to thank the designers: "for seeing that there is beauty in our differences. #MuslimandProud."
Hijaab on the High-street
The modest movement should come as no shock to western audiences. With an up-rise of credible hijaab bearing fashionistas, the prominence of modest fashion has been demystified for the formally unacquainted.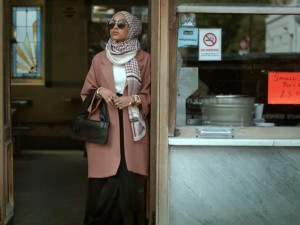 High-street giants H &M made headlines last year, when they opted to use a Hijaab clad model for an ad campaign. 23-year-old Mariah Idrissi broke ground by representing the ever increasing, fashion conscious Muslim Youth. The young model stated: "It always feels like women who wear hijab are ignored when it comes to fashion. Our style, in a way, hasn't really mattered, so it's amazing that a brand that as big as H&M has recognized the way we wear hijaab."
Clearly this is a demographic retailers should keep their eye on as reports have shown that retail growth in the Arab world is outpacing Asia and Russia. In 2013, Arab women spent a staggering $266 billion on clothing and shoes, and that figure is set to reach $484 billion by 2019.
It seems other Large designers are following in D&G's fashion footsteps with Monique Lhuillier designing a range of caftans for the luxury online retailer Moda Operandi, as well as Tommy Hilfiger and DKNY launching capsule collections of flowing modest clothing. While high-street stores like Zara and Mango have also offered specially themed collections during the holy month of Ramadan.