Local Girl, Kiran Johal, has won a place in the prestigious final of Miss Galaxy England 2018, where our 24- year- old will be representing the West Midlands. This means that she will be competing in the grand final in March with girls from all over the country!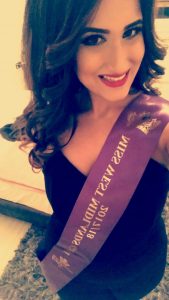 Kiran impressed Birmingham in June 2017 in placing top three in her first competition at the Miss Birmingham GB finals.
The winner of Miss Galaxy England will travel to the USA with contestants from all over the world, to compete in the Miss Galaxy International final, which is being held in the summer of 2018. The international final is a once in a lifetime opportunity and will be a truly amazing experience. The UK has enjoyed some amazing success at the Galaxy International Pageant with them winning an international crown 8 times and had placements in every division for the past 4 years!
The final is being held in March 2018 at Park Hall Hotel, Lancashire and is set to be an exciting & glamorous event!
This industry is something Kiran never thought she would be into, however having seen the slogan 'What do you represent?' she felt she had to apply.
Kiran's aim is to promote the Punjabi folk art of Bhangra and Giddha, not only performing but also educating our youth, breaking down barriers and keeping our elders of the communities alive and stimulated. She believes that you can achieve anything as long as you give it 100%.
'We live in a very diverse community, and it is us in our town that can keep our own cultures alive, never did I think pageantry was for me but all this aside never did I think I would place in finals, you have to believe in yourself 100%.'
Alongside the dance team Giddha Sansaar & Nachda Sansaar, one of her headline sponsors is Kam Lavoi from Arbonne international & second headline sponsor, Shevy Sandhu Photography. Kam is a consultant with Arbonne International that specialise in Vegan, Animal Cruelty-Free, Gluten Free Botanically based Skincare, Cosmetics and Nutrition.  Shevy Sandhu Photography has been providing a professional photography service for almost a decade. He has incorporated Video to his portfolio in the last two years
For more information please visit www.galaxypageantsuk.com