 AFA celebrates achievement on both professional and grassroot levels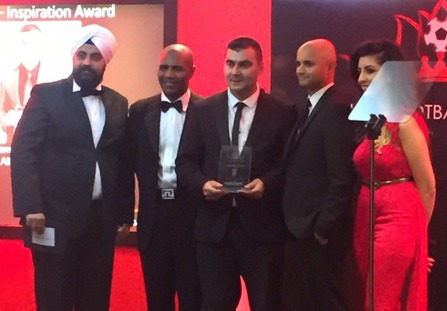 In association with Sky Sports, BBC Sport, BBC Asian Radio Network, Zee TV and Inventive Sports, the Asian Football Awards were held at Wembley Stadium, the home of football on November 19, 2015.
Supported by The Football Association (FA) and The Asian Football Project, the glitzy evening was hosted by passionate football fan, DJ Noreen Khan (BBC Asian Radio Network) and Dharmesh Seth (Sky Sports Presenter).
Now in its third consecutive year, the AFA celebrates key achievement of players at both grassroots level and professional stage.
Judging them were the likes of Jermain Defoe (Sunderland AFC and England), Steve Coppell (ex-Manchester United FC, Crystal Palace FC, Reading FC and England), and Graeme Le Saux (ex-Chelsea FC and England), among others.
The 'Inspiration Award' sees key organisations from the community shortlisted, and the Award was deservedly presented to Mohammed Zafran of South and City College and the Founder of All 4 Youth & Community.
Chairman of The Football Association (FA) Greg Dyke adds: "Congratulations to the Winners at this year's Asian Football Awards.
"It is a timely reminder of some of the wonderful work being done at both grassroots level and in the professional game, in Asian communities right across the country.
"I'm delighted that The FA's Asian inclusion plan is helping to raise the profile of some of the work you'll hear about at the event itself and that Wembley is the setting for this important event."
Zaf said: "I feel honoured once again to receive another award at the Home of Football-Wembley. I feel even proud to win the award in this Inspiration category as after last weeks horrific incident in Paris, this Awards Ceremony could not have come at a better time to show the world that the wrong actions of some individuals does not stop other people from doing good and going out their way to make a difference in other peoples lives.
"Sport and Education has been a key tool for me in this journey and together we can defeat all obstacles."