 JCI TOYP Awards celebrates the achievements of young people in the UK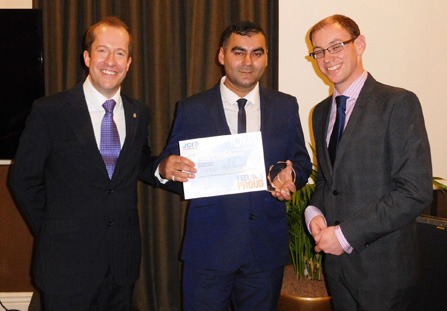 On 20th November 2015, the Junior Chamber International Ten Outstanding Young Person In The UK 2015 Awards Ceremony took place in Barnsley.
Mohammed Zafran was awarded with the Award in the category Moral and/or Environmental leadership.
Zaf is a Community Liaison Officer at South and City College. He is a Pride Of Birmingham Award Winner, National Diversity Award Winner, Sir Bobby Moore Trophy Winner, Pride Of Sport Winner, Lord Mayor City Award Winner, Birmingham Sports Community Award Winner, BBC Project Of The Year Award Winner, Birmingham Volunteer Of The Year Award Winner, Nationwide Individual Of The Year Award Winner, GG2 Leadership Award Winner. His passion is to change lives and he has 16000+ youths signed up for his academy, youths who lacked direction in life and were engaged in crime.
In June 2015, Zaf was awarded the British Empire Medal after being nominated by Prime Minister David Cameron for setting up All 4 Youth And Community and other initiatives.
Zaf is shortlisted in the final 20 of the global TOYP competition.