 Hundreds gather in Birmingham to remember terror victims in multi-faith vigil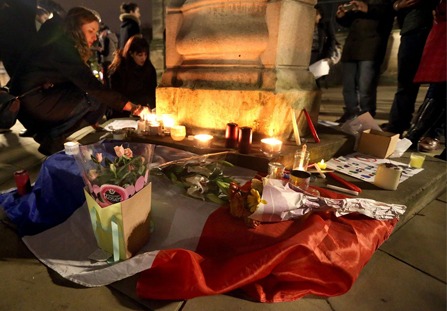 Birmingham city centre fell under a pall of silence as hundreds from the city poured into the centre to pay their respects to those who fell victim to the terror attacks in Paris.
The vigil's attendees came together from all walks of life; uniting to take a stand outside Birmingham Cathedral against the "murderous hatred and violence" exhibited by the insurgents in France's capital.
Approximately 200 people observed a minute's silence at the event, which was organised by charity worker Saidul Haque Saeed from Lozells.
A group of French students from Stafford University were also in attendance.
The Bishop of Birmingham David Urquhart who read a blessing at the event said: "The murder of innocent men, women and children in Paris on Friday is an act of murder and violence against the whole of humanity."
"Today we stand in solidarity as we mourn those who lost their lives and those who were injured."
Showing Birmingham as a "city of the world", religious leaders from the Christian, Jewish, Muslim and Sikh community within the city came to speak at the event.
At the vigil, the atrocities in Paris were remembered alongside attacks in Beirut, Syria, Kenya and Egypt.
Birmingham Central Mosque's Makhdoom Ahmad Chishti informed the crowd that the terror attacks did not represent the religion of Islam.
He said: "This is the biggest human tragedy that has been done in the name of Islam.
"But nowhere does Islam ever allow anybody to take another's life.
"As a Muslim I feel I am going through the feelings of those who have lost.
"Most people feel they can live together regardless of different beliefs.
"This is why is has affected people, because we feel trust has been broken and we all need to work together to bring that trust back into the community."
Taz Ali, of the Stand Up to Racism group, said: "It was great to see people from all backgrounds coming together in solidarity."
"I was absolutely devastated when I heard the news of the attacks.
"We were most concerned about the backlash, as people try to blame certain groups such as Muslims or refugees.
"We must walk together on this."