 Birmingham pupils to learn about the bravery of 400,000 Muslim soldiers in WW1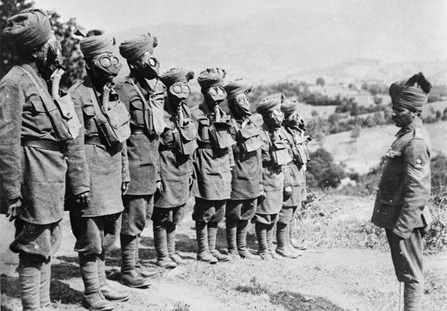 British Future, a think-tank dedicated to racial integration, has unveiled a new scheme to raise public awareness about the role Muslims from undivided India played in the Great War.
Despite the fact that over 400,000 Muslim soldiers fought in World War One, these heroes of the trenches remain forgotten – their names erased from the history books
A recent survey by British Future has revealed that as little as 22 per cent of the general population are aware of the sacrifices these individuals made in defending the British Empire.
And only a meagre two per cent know of the scale of this sacrifice.
Now British Future project co-ordinator Avaes Mohammed will manage a new project to educate Birmingham children about the role Muslims from India played in the Great War.
Assisted by Birmingham historian Jahan Mahmood, Avaes will teach history lessons to a group of Muslims from Lozells and a group of non-Muslims from Kingstanding.
The pupils will then be given the opportunity to interview descendants of soldiers who fought in the war.
The project, run by British Future and New Horizons in British Islam, is one of four projects across the country forming "An Unknown And Untold Story – The Muslim Contribution To The First World War".
Avaes said: "Almost one-and-a-half million men from India took part in the war.
"That is more than all the other Empire countries put together.
"They fought on the Western Front, in the trenches, when the Germans were making great advances and they were instrumental in solidifying the British force.
"We should not forget their contribution, because remembering it is so important to our contemporaries.
"Commemoration is a force of good in the community because it brings people together.
"It gives a sense of belonging in this country. It gives young people a stake in this country."
When war erupted in Europe, the Indian army was 1.3 million strong, with the ranks also consisting of 100,000 Sikhs and 800,000 Hindu troops alongside the 400,000 Muslims.
The valiant individuals sacrificed their lives in epic battles like the Somme and Ypres, with 62,060 being killed in action in the Great War.
Over 1,000 soldiers fell at Gallipoli and almost 700,000 sepoys participated in battles in Mesopotamia.
Hundreds were also killed in gallant but albeit futile efforts at Neuve Chappelle.
Dressed in tropical uniforms, the Indian soldiers arrived cold-ridden in the muddy climes of Europe, completely ill prepared for the mechanised method of warfare into which they had been dropped.
 "For many," said Avaes, "it would be their first interaction with the British.
"The landscape and climate were completely different. It was raining and they were in their tropical uniforms. They weren't prepared for battle in Europe.
"It was a new kind of war. It was the first time some had seen an aircraft, the first time they had seen machine guns.
"In a letter, one described them as like dragons because they sounded like dragons.
"He also wrote about crocodile-like weapons. He was referring to U-Boats."
One letter from a sepoy to relatives back in India described vividly the haunting scenes of war.
He wrote: "The shells are pouring like rain in the monsoon."
"The corpses cover the country like sheaves of harvested corn."