 Coventry boy suffering from muscle-wasting disease faces race against time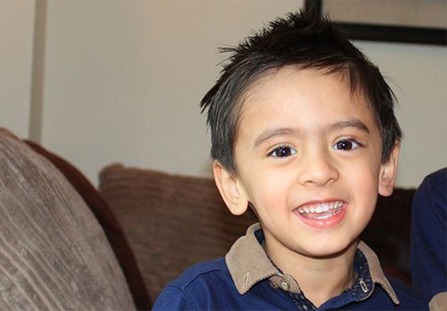 A Coventry mum has been left devastated after health bosses refused to approve a pioneering drug for her young son.
Time is ticking for six-year-old Kirath Mann, who suffers from muscle-wasting condition Duchenne muscular dystrophy (DMD), a condition that leaves many sufferers wheelchair-bound before their 10th birthday.
Kirath's mum, Jaspal Mann, 39, who handed a petition to Westminster earlier this year to get the breakthrough treatment Translarna introduced into the UK, has joined forces with other families to campaign to end delays to the drug.
The drug, which also goes by Ataluren, tackles the causes of DMD and is the first of its kind. Available in a France, Spain, Germany, Italy and Denmark, having been approved in Europe last year, the drug is yet unavailable in the UK.
The National Institute for Health and Care Excellence (NICE) has decided that the manufacturers of the drug – PCT Therapeutics – need to provide further information of the drug's benefit to justify the cost, which can amount to up to £400,000 per patient per year.
Jaspal, 39, said: "We are devastated at having to face yet more disappointment after another hurdle has been put in our way.
"All these organisations and NHS bodies that have been involved in the decision do not seem to be appreciative that this is a rare disease and very progressive one as well.
"Every day and week that ticks by for these children, their muscles are weakening and wasting away.
"And that – the urgency – seems to get lost on these organisations. They aren't concerned that time is ticking for these boys.
"You feel like you get filled up with hope and the bureaucracy and procedures that have to be followed get in the way.
"It was at NICE's discretion to give a positive decision and it was in their remit to do that. But they decided to go for a different approach and want to bring the companies involved back to the table."
Chief executive of Muscular Dystophy UK, Robert Meadowcroft, who has supported the families' campaign for the drug, has described the latest decision as "extremely disappointing" and has said that it "really is a race against time" for many families affected.
A meeting between NICE and the manufacturers involved is expected to take place on November 17.