 Rik Basra Signs Over 2000 to Blood Cancer Charity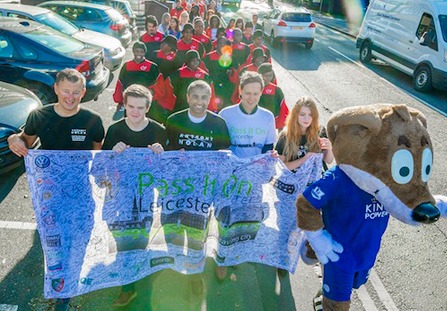 Blood cancer survivor Rik Basra has led a month long campaign to recruit donors to the Anthony Nolan register. The blood cancer charity has now revealed that the campaign has been a huge success, with 2068 young donors signing up to the register in just one month. The health drive saw 31 donor recruitment events across 30 days in September with organisations from every corner and Leicestershire backing the campaign, including Leicester City Football Club and Leicester Tigers. Each participant proudly displayed the #PassItOnLeicester flag at their donor recruitment events, which the young donors signed and each host found a unique way to pass it on to the next supporting participant.

It's been a big month for Rik Basra, who has also been rewarded with a Points of Light award from Prime Minister David Cameron, had a blood donor centre named after him, abseiled from the roof of Police Headquarters and appeared on the pitch at Leicester Tigers Rugby Club.

Rik Basra said, "It's been an amazing, inspiring and tiring month, but it's so worth all the hard work. For us, it wasn't only about the number of sign ups but the awareness raised in the area, as we know that myths and misconceptions are a big barrier to Anthony Nolan's lifesaving work. However, to see so many young people inspired to sign up to the Anthony Nolan register to help people with blood cancer is nothing short of amazing.

"I want to personally thank each and every single person who has helped to make this campaign such a success. Without all the volunteers and our amazing Pass It On partners, it just would not have been possible. I'm so proud to be from Leicester, we've definitely confirmed ourselves as the lifesaving city." On the flag's final day yesterday, representatives from Anthony Nolan recreated the lifesaving journey that stem cells take on their way to a patient awaiting a transplant.

Henny Braund, Chief Executive of Anthony Nolan, says, "We are in awe of all the hard work that Rik, Kas and their volunteers have put in for the Pass it On Leicester campaign. We also cannot thank the good people of Leicester enough for getting behind the campaign in such a big way. "It's amazing to see so many people sign up to the Anthony Nolan register. Because every one of those people has the chance to be called upon to donate, I'm sure the Pass It On campaign will have a lifesaving legacy for years to come.