 Director of 'Katti Batti' talks about the quirky Bollywood love story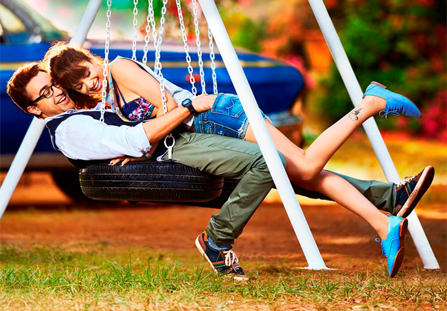 How is Katti Batti different from Hero, both of his movies which are releasing back-to back at the box-office?

Katti Batti is more of a director's piece. It's a very honest and very Bombay film. I'm a South Bombay guy myself, so I didn't have to do much preparation for it. All the situations shown in the film. I have been part of them.
How involved were the Khans in Katti Batti's planning?

Salman and Aamir both sat on the edit table for Katti Batti and Hero. They both said the same things – that we must present things in a clear way in the film. This is what they taught me. When Salman and Aamir are helping me, it does not mean I am not being a good director. It is just a collaborative effort. Rishi Kapoor and Raj Kapoor also used to show their films to others. I have learnt all these things from them. The Khans choose their directors, directors don't choose them.
What are your thoughts on Shah Rukh Khan?

I think Shah Rukh's greatest strength is how he approaches a scene and he knows he is going to be amazing, but he also tries to make everyone else amazing too. He is a very selfless actor.
Do you think Indian audiences watch a movie?

Haha, I honestly think that only Bandra-to-Andheri crowd knows the names of filmmakers and for the rest of India, it's either a 'Salman ki film' or 'Kangana ki'.
Do you find the prospect of doing two back to back movies daunting?

Well, Hero should have been released in July – but then Salim Khan, Arbaaz and Sohail watched the film and really appreciated how it had been mounted, as well as how well Sooraj and Athiya had done. It was then Arbaaz who said it should ride on the success of Bajrangi Bhaijaan and be released soon after. During that time, Katti Batti had always been scheduled for release on September 18th. It just ended up as a coincidence that Hero came out a week before that.
What are your hopes for Katti Batti?

I really want Imran Khan's performance to be noticed. I think he's done an amazing job.
Is it true that Katti Batti was originally supposed to be called Saali Kutya?

Yes. When that idea came to me I did love it, but I also knew it was a bit too much of a gimmick and completely unnecessary. The film is about the positives and negatives of a relationship and what really happens in their lives and how they fix it. So that title was not necessary, but I loved it. I did end up agreeing to why we should drop it.
What is your favourite scene in Katti Batti?

I must say one of my favourite scenes is a scene where Kangana's character, payal, ends up shooting Imran's character playfully with an iPad. Tushar suggested we should get Kangana to shoot the scene herself so it is as authentic and organic as possible.
Any teasers you can share from the film?

I won't give too much away, but what I can say is Kangana's performance will kill you at the end of Katti Batti. You'll know it when you see it, it will shock everyone. It's a story about two people who love each other so much that they just can't be together.