 New Show is a Storm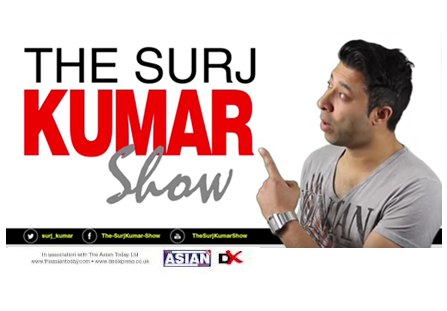 DesiXpress caught up with our very own entertainment correspondent to talk about his new talk show, the Surj Kumar Show. Surj Kumar will be brining you a fresh look at celebrity interviews, gossip and breaking news. The man himself explained the new phenomenon.
Tell me what the Surj Kumar Show is about.
The Surj Kumar Show is a tongue and cheek celebrity chat show on YouTube. It's all about fun, laughter and celebrities. Making sure they're comfortable and rearing to go!
What is the aim – where would you like to take it? 
I would like to make The Surj Kumar Show a brand and hop onto mainstream TV with a studio audience! That is the ultimate dream.
What has been your biggest highlight?
There have been so many from interviewing Diljit Dosanjh to attending the BritAsia Awards nomination party. However, just getting this far so as it has been a good few years in the making.
What would be the ultimate interview for you?
Celebrity interviews are always a good laugh and it's important to make sure that it's a good conversation – both ways. The ultimate interview would have to be with Salman, Aamir or Shah Rukh Khan.
What should audiences expect from the show?
Fun, laughter, cheek (from me)
QUICK FIRE QUESTIONS
• I love…..My Show
• I hate….. Animal Cruelty & Racism
• I'm afraid of….. Manchester United not winning the title this season
• I'm superstitious of…..Not superstitious
• I like it when….. There is positive news in the media
• My biggest fear…… is Liverpool FC winning the Premier League Hahahaha
• My strength…. My belief in not failing
• My weakness….. my head can be like a kids messy room, unorganised at times hahahaha
• My sex-appeal…… you tell me
• My fantasy…… dinner with Karishma Kapoor
• My hero……. My Grandad
• My favourite quote……. Brilliant Stuff
• My biggest asset….. My Cheesy smile
• My passion…… The Surj Kumar Show
• My greatest necessity…… My Family
• My favourite possession…… My collection of old WWE/WWF Magazines
• What tires me most…… The UK Sun
• What touches me most…. an act of kindness.
• Life to me is….. about reaching your goals no matter what, Think BIG!
• My birthday is…… in June which makes me…Gemini