 Mailbox's New Indian Restaurant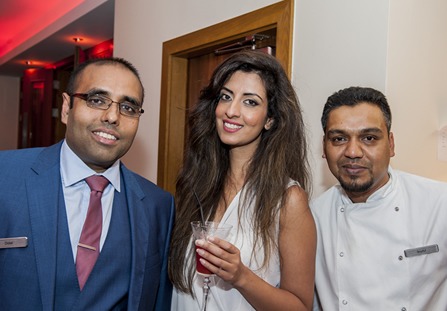 The good, the great and the glamourous were out in force last night for the official press launch of Vivaanta, the new fine dining restaurant on the Mailbox canal.
Specialising in sumptuous Indian cuisine with an emphasis on a large choice of seafood dishes, the restaurant hopes to add another layer of pizazz on the formidable curry market.
The event boasted an array of presenting talent including Capital FM DJs Katy Poulson and Sacha Brooks, Steve Denyer from Heart FM, Andy Goulding from Free Radio and Noreen Khan from BBC Asian Network. Also joining in the fun were presenters Shefali Oza from BBC Midlands Today and Genelle Aldred from ITV Central.
Guests enjoyed seafood canapés and cocktails whilst being entertained by elegant Bollywood violinist, Jessica Crabtree, known for performing at Amir Khan's Engagement Party, and an extravagant Bollywood Dreams dance duo who thrilled the crowd with their dazzling costumes and energetic routines.
Guests then enjoyed some signature dishes from the a la carte menu. Some of your favourites are bound to feature on the main menu with delectable chicken and lamb curries, as well as spicy duck and venison dishes.
The Vivaanta team have taken the best of Indian cooking and the best quality produce to create delicately spiced dishes that don't over burden the palate. 
The Seafood menu is quite extensive and offers monkfish, king prawns, scallop fillets, seabass, crab and a spectacular slow-cooked Lobster dish. This dish sautéed in olive oil with spilt mustard seeds, crushed garlic, shallots and chillies, reduced in a sweetened plum tomato stock and finished with coconut milk and coriander has proved very popular!
Vivaanta also serve a selection of cocktails for those seeking to please their pallets in liquid form and is set to draw diners from near and far to taste the marvellous treats on offer.
Vivaanta owner, Mr Shah Alam, said: "We are really excited to be launching Vivaanta, Seafood and Spice restaurant. We will provide a high class Indian restaurant; fresh produce cooked with passion and excellent customer service."
Vivaanta offers seafood and spice and all things nice and will impress those who enjoy the finer things in life. I'm sure this new venue will be a welcome addition to the Mailbox scene.