 Shortlist Unveiled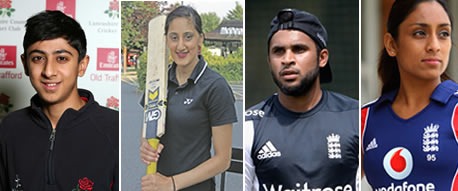 It has been another remarkable season for British Asians in cricket.
Moeen Ali has again blazed a trail, appearing as the cover star and one of five 'players of the year' in the legendary cricket almanac Wisden, while Adil Rashid featured strongly in the England side in the one-day series against New Zealand and Australia.
The pair find themselves among no fewer than six players to have represented the national side who are in the running for recognition, as the shortlist is announced for the 2015 Talk Home Mobile Asian Cricket Awards (ACA).
The ACA, which are held in association with the England & Wales Cricket Board (ECB) and supported by the Club Cricket Conference, are open to people with British Asian heritage as well as to those dedicated to increasing Asian participation in British cricket.
Sponsored by Talk Home Mobile, the Awards aim to improve the awareness of the positive impact made by Asians within the British cricket industry and to engage with organisations and individuals to help increase participation. They will be presented at a gala night at Lord's on Tuesday 13 October.
Moeen and Rashid are joined by former England U19s captain Varun Chopra, who has enjoyed a hugely successful season with Warwickshire and the Birmingham Bears, on the shortlist for the prestigious player of the year award.
Another England U19 captain is Haseeb Hameed, a prolific batsman with Lancashire CCC, who is a candidate for the professional young player of the year trophy alongside Kishen Velani and Aadil Ali.
In the women's game, former England star bowler Isa Guha, now a high-profile writer and broadcaster on the game, is in contention for the media award, while Nottinghamshire all-rounder Sonia Odedra, who made her Test debut in August 2014, is in the hunt for the woman in cricket award.
"The quality of nominations was unprecedented," said Asian Cricket Awards cofounder Jas Jassal BEM of Inventive Sports. "The judging panel had a hugely difficult task in determining the shortlist from so many inspiring candidates from the Asian community in Britain."
Jane Hannah, national volunteer and participation manager for the ECB, added: "The ECB are delighted to once again be a partner for the awards. The nominees this year showed an amazing amount of dedication, commitment and success in the game from grass roots through to the professional level. It was a real challenge for the judging panel to select a shortlist from so many worthy nominees."
Nominees
GRASSROOTS AWARD
Sajid Patel (founder, National Cricket League),
Azam Riyard (Crawley Eagles CC & Sussex Cricket in the Community),
Munir Ali (Moseley Ashfield CC)
INSPIRATION AWARD
Sohail Rauf (chair, Welsh Asians CC),
Shahidul Alan Ratan (Capital Kids Cricket),
Salma Bi (Worcestershire CCC)
PROFESSIONAL YOUNG PLAYER OF THE YEAR AWARD
Haseeb Hameed (Lancashire and England U19),
Kishen Velani (Essex CCC),
Aadil Ali (Leicestershire CCC)
WOMAN IN CRICKET AWARD
Hannaa Zaman (Glamorgan CCC, Cricket Wales),
Halima Khan (ICC coach),
Sonia Odedra (Nottinghamshire CCC and England)
COACH OF THE YEAR AWARD
Saba Nasim (ECB 2015 coach of the year),
Cookie Patel (ECB coach, England women),
Qasim Ali (Lancashire South Asian Talent Search, England Physical Disability Squad)
MEDIA AWARD
Kalika Mehta (BBC Sport Online),
Nikesh Rughani (BBC Sport, Sky Sports, BBC Asian Network),
Isa Guha (Test Match Special, IPL TV presenter, former England bowler)
BEHIND THE SCENES AWARD
Kunwar Bansil (lead physiotherapist, Yorkshire CCC),
Halima Khan (ICC coach),
Dr Harjinder Singh (consultant in sport and exercise medicine, Leicestershire CCC, England Lions)
ASIAN TEAM OF THE YEAR
Batley CC (Yorkshire),
Great Horton Church CC (Bradford),
Attock CC (Birmingham)
ECB DIVERSITY AWARD
Sussex CCC,
Lancashire CCC,
Glamorgan CCC & Cricket Wales
PROFESSIONAL PLAYER OF THE YEAR AWARD
Varun Chopra (Warwickshire CCC, Birmingham Bears),
Moeen Ali (Worcestershire CCC and England),
Adil Rashid (Yorkshire CCC and England)