 Actor Talks to DesiXpress About Brahmin Bulls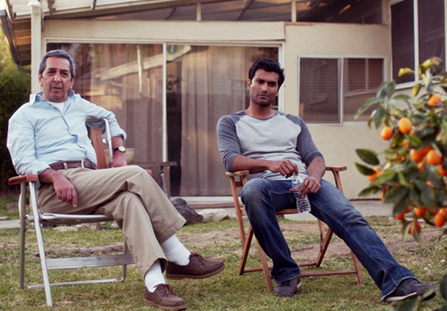 Starring Sendhil Ramamurthy, BAFTA nominated actor Roshan Seth, Academy Award winner Mary Steenburgen, Justin Bartha (The Hangover trilogy), and Academy Award nominated Michael Lerner, Brahmin Bulls is an earnest look at the ever-evolving relationship between a father and son, the women in their lives, and the powerful secrets they keep.

The movie is about a thirty-something disillusioned architect struggling to save his failing marriage, Sid stumbles through his days on a self-destructive path while holding his wife's beloved cat hostage. Meanwhile Ashok, Sid's estranged and widowed father living in Boston, decides to make a last-minute trip to LA for an academic conference. When Ashok arrives at Sid's doorstep unannounced, the two men begin a journey to mend their strained relationship until Sid discovers the true purpose behind his father's visit – a woman with whom he had an affair years ago. DesiXpress caught up with Roshan Seth to talk about the delightful little movie.


The chemistry between you and your son is the pinnacle of this movie.

Yes. I'm glad you say that because that is not a universal reaction. But I think, certain people have seen that and I'm so glad that they have seen that because the so-called Asian immigrant movie. I don't think that is what this is. We didn't want to make that kind of movie.

You see the director, Mahesh Pailoor, – when his father moved to America – he and father had a difficult relationship. He tried to capture some of that, but it is more than that. It is a story about dissolute lives that have lost their spark. By the end of the movie, both father and son find the purpose of living again.


How difficult was portraying your relationship between Sendhil Ramamurthy and yourself?

It was very good. The whole chemistry with the entire cast was very good. The movie is mainly about my character's search of his old flame, which he goes in search of. Mary Steenburgen who plays that character – she is lovely. There are so many scenes with her that I would describe as poetic. The thing is had he allowed himself to do more than she allowed him to do, it would have destroyed that friendship. Its those things that the movie is about.


Describe your character – is he anything like yourself?

The movie involves some athletic ability – something which I think I wasn't capable of. You can see in the movie how much of a good tennis player he is. Some of the best scenes come I recorded were with Mary. She is such as versatile actress and it's always a pleasure to work opposite such an experienced performer.


I understand you, ironically, found a long lost friend during filming?

I said to the director, I do not know anyone in Los Angeles but I wonder if you could find out if this person was still around. They didn't tell me that they had found him and gave him a role in the movie.


Which do you, the Bollywood industry or the Hollywood industry?

It doesn't matter. What matters is the script. For a director, actor and writer – it all starts with the script.